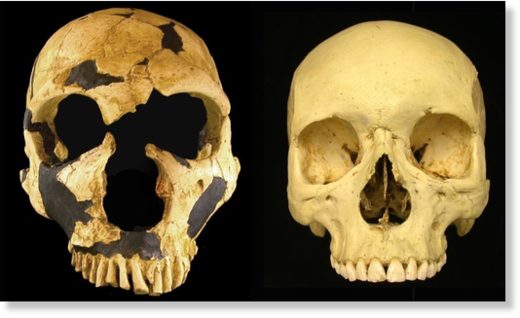 A pair of researchers at Temple University has found evidence that suggests Neanderthals mated and produced offspring with anatomically modern humans multiple times-not just once, as has been suggested by prior research. In their paper published in the journal
Nature Ecology and Evolution
, Fernando Villanea and Joshua Schraiber describe
their genetic analysis of East Asian and European people and how they compared to people from other places.
Fabrizio Mafessoni with the Max Planck Institute for Evolutionary Anthropology offers a News and Views piece on the work done by the pair in the same journal issue.
In recent years, scientists have discovered that early humans moving out of Africa encountered Neanderthals living in parts of what is now Europe and Eastern Asia. In comparing Neanderthal DNA with
modern humans
, researchers have found that there was a least one pairing that led to offspring, which is reflected in the DNA of humans-
approximately 2 percent of the DNA in non-African humans today is Neanderthal.
In this new effort, the researchers have found evidence that suggests there was more than one such encounter.