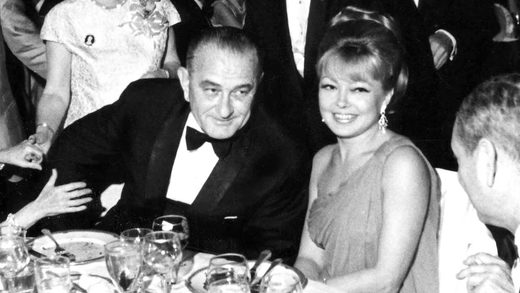 On January 15, Mathilde Krim, a scientist and socialite, died on Long Island at 91, and the obituaries described her courageous leadership in the fight against AIDS. Krim was incensed by the widespread stigmatization of AIDS victims as somehow deserving the disease, and she worked to lift prejudice that kept our society from taking the illness seriously. (I saw her work for myself, attending a fundraiser at her East Side townhouse back in the 90's).
What the news has not told you about is Krim's other great achievement: helping to swing the White House to Israel's side in the 1960's.
The no-daylight policy of U.S. alignment with the Israeli government, so obvious today in Trump's deference to Netanyahu, was born under Mathilde Krim's dear friend Lyndon Johnson. In the feverish weeks surrounding the 1967 war, Krim, who had once emigrated to Israel, and her husband Arthur, a leading fundraiser, were continually at Johnson's side, and advised him on what to say publicly.
"Johnson was the pivotal president for our relationship with Israel and I think Mathilde Krim's sway over Johnson was such that it turned the entire relationship, allowing Israel to continue on, especially after the Six Day War, in a manner that defied not only the U.N. but the whole world with regard to Israel's treatment of the Palestinians," says Martin Brod, a retired systems analyst in New York who has long studied the role of Israel's American friends in cementing the special relationship. Here is that story.