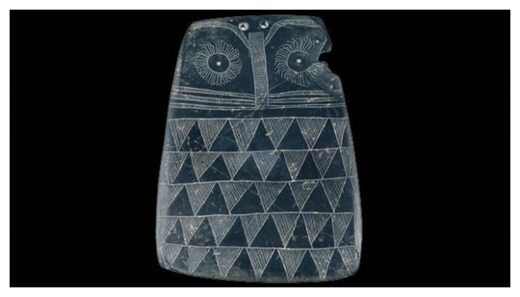 A study led by Juan José Negro, researcher at the Higher Council for Scientific Research ( CSIC ) at the Doñana Biological Station ( EBD ),
suggests that the owl-shaped slate plates from 5,000 years ago found in the southwest of the Iberian Peninsula could have been created by children to be used as toys.
This investigation,
which has been published in the scientific journal Scientific Reports
,
offers a new perspective on the origin and use of these archaeological objects and on how children used different artifacts and played in prehistoric European societies.
The number of slate plates with representations of owls that have been found in tombs and graves in the Iberian Peninsula amounts to around 4,000. These date from 5,500 to 4,750 years ago and usually share several characteristics, like two circles engraved like eyes and a body outlined at the bottom representing the plumage of an owl.
" Owls are a group of bird species very different from all others and are easily recognizable. ", he explains Black. " They have a compact silhouette, with huge heads and eyes in frontal position, like humans. Due to this peculiar anatomy,
they have always been represented from the first cave engravings 30,000 years ago
until now in the same way: or directly showing their front, or with the head turned and looking at the observer ", indicates the EBD-CSIC researcher.