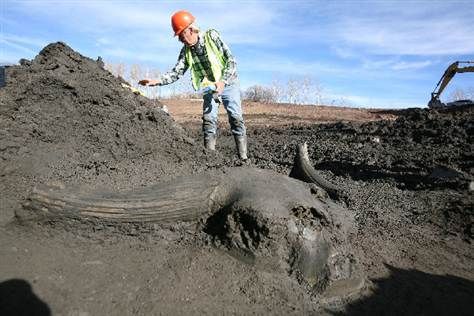 Reinforcements called in as Colorado excavation turns up 5,000 large bones
Diggers at an excavation in west-central Colorado turned up almost 5,000 large bones in seven weeks from mammoths, mastodons, giant ground sloths, bison, horses, deer and camels. They also uncovered thousands and thousands of smaller remains, such as rodent teeth and salamander vertebrae.
The scientists in charge knew early on that this dig would require more shovel work than they could do alone, so they called in reinforcements, including 15 educators from the surrounding valley. These teacher-volunteers worked alongside the scientists and other
volunteer
diggers,
turning up clues to the creatures
that inhabited this area between 150,000 and 50,000 years ago.
The dig ended July 3, having yielded 4,826 large bones in seven weeks and leaving the teacher-volunteers with lessons to pass on to their students.