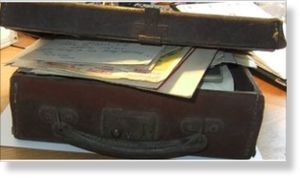 It is a mystery found on a Belfast street corner that dates back to World War I.
A small battered leather suitcase carrying Princess Mary's Christmas gift to soldiers serving on the front line was found in the south of the city.
Police believe it may have belonged to a pilot, called Harry Campbell, from the McMaster area of Castlereagh.
The case also contains a love letter smudged with a lipstick kiss and a poem putting down Hitler.
Now police are trying to trace someone who has lost valuable mementoes that date back a century.
The case and its contents have "huge personal significance" said police - and they want to return them to the family who has lost them.
The gift box contains a personal card to troops from Princess Mary who was just 17 when World War I broke out.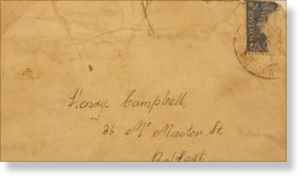 She visited hospitals and welfare organisations, helping with projects that gave comfort to British Service men and their families.
About £100,000 worth of gifts were sent to all British soldiers and sailors for Christmas 1914.
In the love letter, a woman writes: "I received a letter at camp with your name at the bottom and I am anxious to know if it was really from you."
The poem which may have been penned by the war veteran, reads:
"I will tell you a tale as strange as it may seem,

Of Herr Hitler, Nazi, and his terrible dream.

He was stretched in his coffin lying in state.

His little moustache frozen in hate."
Police have appealed to anyone who knows anything about the box and its contents to contact them.