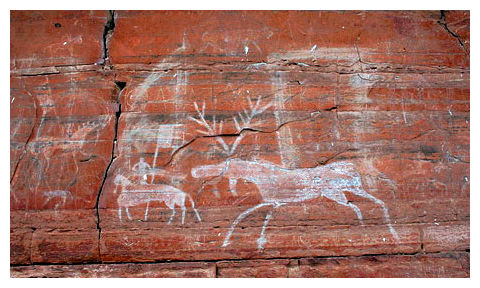 Hohhot -- A 5,000-year old rock carving in north China's Inner Mongolia Autonomous Region depicts a falling meteor, said archaeologists on Saturday.
A rock on the side of Dahei Mountain in the city of Chifeng has images of people, domed houses and a fire ball with a long tail falling from the sky engraved on it, said Wu Jiacai, head of the Inner Mongolia rock paintings protection association.
"I believe it shows prehistoric people returning at dusk from a hunting trip to their domed houses, as a meteor falls from the sky," Wu shared his findings at the 6th Hongshan Cultural Forum that runs from August 25 to 27.
He added that in the same location several years ago, another set of carvings were found showing people fleeing, snakes slithering and birds flying away, which might be what happened after the meteor hit the earth.
The area has about 1000 carvings all believed to be made by the Neolithic Hongshan people, Wu said.
"The pictures can shed some light on the disappearance of the Hongshan culture, which was quite developed," Wu said.