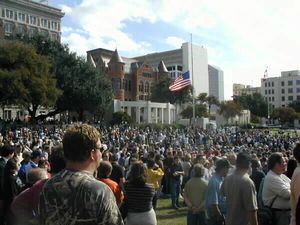 The memory of what happened in downtown Dallas 47 years ago today is still fresh for John Todd.
Now he wants to pass those memories on.
"When I asked my grandkids [to come], they immediately said yes," Todd said this morning near the spot where President John F. Kennedy was slain by a sniper's bullet. "So here we are."
The Todds had plenty of company: Dozens of people - tourists and locals, young and old - visited the site where the president's motorcade passed the Texas School Book Depository.