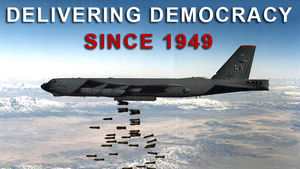 In 1999, the U.S. national security state — which has been involved throughout the world in subversion, sabotage, terrorism, torture, drug trafficking, and death squads —
launched round-the-clock aerial attacks against Yugoslavia for 78 days, dropping 20,000 tons of bombs and killing thousands of women, children, and men
. All this was done out of humanitarian concern for Albanians in Kosovo. Or so we were asked to believe. In the span of a few months, President Clinton bombed four countries: Sudan, Afghanistan, Iraq repeatedly, and Yugoslavia massively. At the same time, the U.S. was involved in proxy wars in Angola, Mexico (Chiapas), Colombia, East Timor, and various other places. And U.S. forces are deployed on every continent and ocean, with some 300 major overseas support bases — all in the name of peace, democracy, national security, and humanitarianism.
While showing themselves ready and willing to bomb Yugoslavia on behalf of an ostensibly oppressed minority in Kosovo, U.S. leaders have made no moves against the Czech Republic for its mistreatment of the Romany people (gypsies), or Britain for oppressing the Catholic minority in Northern Ireland, or the Hutu for the mass murder of a half million Tutsi in Rwanda — not to mention the French who were complicit in that massacre. Nor have U.S. leaders considered launching "humanitarian bombings" against the Turkish people for what their leaders have done to the Kurds, or the Indonesian people because their generals killed over 200,000 East Timorese and were continuing such slaughter through the summer of 1999, or the Guatemalans for the Guatemalan military's systematic extermination of tens of thousands of Mayan villagers. In such cases, U.S. leaders not only tolerated such atrocities but were actively complicit with the perpetrators — who usually happened to be faithful client-state allies dedicated to helping Washington make the world safe for the Fortune 500.
Why then did U.S. leaders wage an unrestrainedly murderous assault upon Yugoslavia?