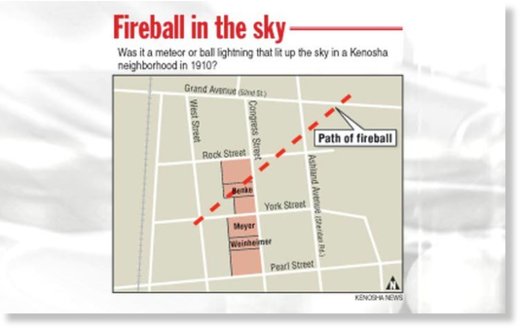 Was it an astral body or a weather anomaly that a Kenosha neighborhood witnessed on a summer's morning more than 100 years ago?
The incident was recorded on the front page of the Kenosha Evening News of Aug. 25, 1910.
Witnesses said a great ball of fire came through the sky in the area of Grand Avenue (52nd Street) and Ashland Avenue (Sheridan Road) just before 8 a.m.
The sky was dark, and it was raining hard, with thunder and lightning. But the people who saw the phenomenon felt sure it was not a creature of their imaginations.
The news article reported: "The people in the neighborhood of Congress and York Streets (today's Tenth Avenue and 54th Street) were just sitting down to their breakfast
when they saw a great light.

"So intense was the light that, notwithstanding the storm, it lit up their homes like bright sunlight, and they rushed to the windows just in time to see the ball of fire coming through the heavens in a southwesterly direction.

"It was only a few feet from the tops of the houses when it was seen by most of the witnesses
, and the women were so frightened that they fled from the windows."