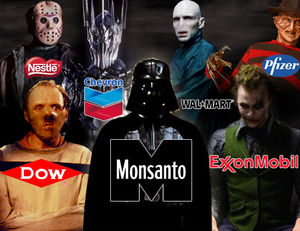 With TPP and its deranged Atlantic cousin, TTIP, both proceeding — and Citizens United still buttering up our elections for corporate feasts — watchdogs and whistleblowers have never been more important to our democracy.
However, while a hero like Edward Snowden can reveal to us the surveillance state and dragnet data collection enabled by the Patriot Act, one person alone can't stop its successor, the
USA FREEDOM Act
, from privatizing mass data collection and outsourcing the job to the government's Big Data partners.
Corporate rule over this country is more disturbing than ever, but it's important to never gloss over the crimes of the past. Corporations can and do get away with murder — and have been doing so for a while.
Their dubious "personhood" status — which bestows upon them seemingly limitless powers of 'citizenship' — has in many cases immunized them from the same laws and regulations real humans face. As a result, their crimes are swept under the rug as though they were merely teenage transgressions.
But watchful eyes and minds can collect and archive these crimes with the same ubiquity as the surveillance cameras on our street corners. Without further ado, here are 10 corporations that got away with murder: