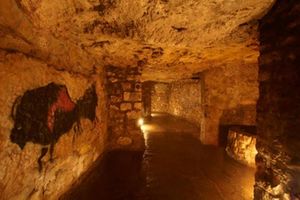 Deep under the imposing stone walls of a 13
th
century palace, the Labyrinth of Buda contains, in its twisting paths and pitch-black corridors, the dark history of the ancient castle district of Budapest. Here, the skeletons of the dead reveal violent deeds, but in more recent times the caverns have been open to the public, showcasing their haunting beauty. Suddenly, in 2011 police raided the labyrinth and locked the doors for reasons unexplained. What prompted this strange closure? What was being hidden beneath the streets of Budapest?
The Dark History of the Caves
The complex of underground caves and passages were carved out of solid rock by rushing thermal waters long before prehistoric man used them as shelter and hunting more than half a million years ago.
Archaeological evidence of 350,000-years-old stone tools belonging to
Homo erectus
were reportedly located in the caves.
The passages and chambers stretch out over 1200 meters (4000 feet) and are nearly 16 meters (53 feet) beneath the ancient castle district of what is now Budapest, the largest city in Hungary. So historic and unique are the caves that they were recognized as a UNESCO World Heritage Site in 1987 as an outstanding urban landscape. The caves have been a part of the history of mankind and the culture of Budapest since prehistory, and have seen many changes over the eons.