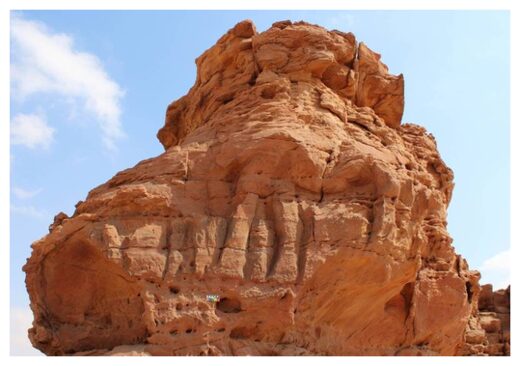 Stunning relief carvings of camels in Saudi Arabia are now thought to date back more than 7,000 years - making them more than three times as old as was first suggested.
Previously, it was thought the ancient camel sculptures found in the northern province of Al Jouf were
about 2,000 years old
.
However, chemical analysis and the examination of tool marks helped to show that the carvings at the site were made in the sixth millennium BCE.
It means the remarkable life-size sandstone carvings of camels and other animals, including a donkey, are the world's oldest surviving large-scale reliefs.
"They are absolutely stunning and, bearing in mind we see them now in a heavily eroded state with many panels fallen, the original site must've been absolutely mind blowing," said Dr Maria Guagnin, from the department of archaeology at Germany's Max Planck Institute for the Science of Human History, the lead author of a new study on the late Stone Age carvings.
"There were life-sized camels and equids two or three layers on top of each other. It must have been an absolutely stunning site in the Neolithic."
Researchers heard about the site about five years ago and before the coronavirus pandemic, Dr Guagnin and other specialists made two visits of about 10 days each to examine the carvings.
The presence of camel reliefs at Petra in Jordan, produced by Nabataeans about 2,000 years ago, had suggested the Saudi carvings may be about two millennia old. However,
a stone mason analysing the camel site carvings did not find evidence that metal tools had been used and there was no sign of pottery.
Weathering and erosion patterns, high-tech analysis involving fluorescence and luminescence and radiocarbon dating of remains also indicated an early origin.
"Every day the Neolithic was more likely [as the time when the carvings were made] until we realised it was absolutely a Neolithic site we were looking at," Dr Guagnin said.
Researchers also came from the Saudi Ministry of Culture, King Saud University and France's Centre National de la Recherche Scientifique.