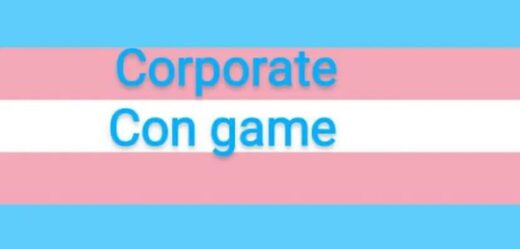 "Inclusivity is more than a social cause; it's a business opportunity. It's time to maximize your business growth."

- DMI Consulting
Let me get this out of the way because it seems more than a few people still need to hear this.
CORPORATIONS DO NOT CARE ABOUT YOU!
"Diversity and inclusion "(D&I) comprise a new business mantra.
Programs and language
based on the normalization of body dissociation are being corporately cultivated worldwide. The programs being instituted appeal to our emotions, to entice us to believe that companies care about people and want to create one big happy, diverse work-family, which includes marginalized sectors of society - most notably, those who imagine they have a sex that is not male or female. The overlooked are finally being given a place at the table!
Or are they?
The new, new liberal left in America, the left that has emerged out of a traditional new left, which cared about the working class, blacks, and women's rights, who yearned for a more equal and just social order,
is unrecognizable to many of us who've long been of the traditional left
. Just a decade ago, that left sparked a potentially revolutionary movement
on Wall street
, calling out the financial industry and the monopolies ruining our lives and our planet.
Emerging out of the carcass of that potentially revolutionary movement is a left that has recently climbed into bed with those same big banks. Snuggled up in bed with them, fluffing their pillows, are
Big Pharma
and
Big Tech
. The new left is screaming at protests, getting comprehensive media coverage, voices in our universities and institutions, and crying that people claiming their sex is not male or female need human rights. These manufactured sexes are being supported by, promoted, and advertised by
Big Pharma
,
Big Tech
, and
Big Banking
.
This new, unrecognizable left sees no irony at all in their behavior.