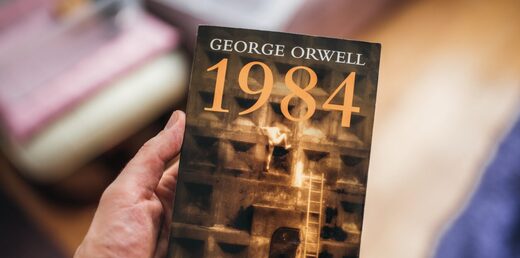 George Orwell's iconic novel
1984
, written in 1949 about the horrors of censorship and the threat of authoritarianism, is being censored by a university. The University of Northampton in Orwell's own England has issued a trigger warning on the book, with staff claiming that the
book contains "explicit material" and that some student may find the work to be "offensive and unsettling."
The Daily Mail
uncovered
this via a Freedom of Information request, and
1984
is one of several books that have been slapped with a trigger warning for students at the university who are studying what's called Identity Under Construction. This course of study comes with a warning to students that it "addresses challenging issues related to violence, gender, sexuality, class, race, abuses, sexual abuse, political ideas and offensive language," The Mail reports.
Other books deemed to be triggering include Samuel Beckett's groundbreaking and brilliant play
Endgame
,
V for Vendetta
by Alan Moore and David Lloyd and Jeanette Winterson's
Sexing the
Cherry
. Sally Rooney's
Normal People
has also been flagged, and Mark Haddon's 2003 novel
The Curious Incident Of The Dog In The Night-Time
has been labeled as including the "death of an animal, ableism and disability and offensive language."