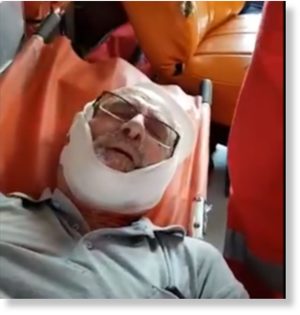 A group of around 30 masked Israeli settlers attacked Israeli and international human rights activists on Wednesday, beating them with crowbars while they were protecting Palestinian farmers trying to harvest olives in the village of Burin, in the West Bank.
Eighty year old Rabbi Moshe Yehudai told reporters that he "feared for his life" as he was beaten mercilessly on the head, arm and shoulders. He was one of five Israeli human rights activists who was beaten in the attack.
Yehudai was rushed to hospital with severe head injuries and a broken arm.
Yehudai is a member of Rabbis for Human Rights, a group made up of Israeli and international Rabbis and supporters that engage in human rights accompaniment in the West Bank, especially in areas known for Israeli settler violence.
According to local sources, more than 30 masked Israeli settlers came running into the olive grove where the harvest was going on, and began beating the Palestinian farmers, Israeli rabbis and international human rights activists.
While being treated for his injuries, Yehudai told reporters from the
Times of Israel,
"Suddenly, the settlers came with their faces [covered]. They started running at us, they surrounded me, threw rocks at me, hit me with crowbars, giving me a head injury. I told them I'm 80 years old. Leave me alone."
But the settlers kept coming and beating him and the other activists and observers.