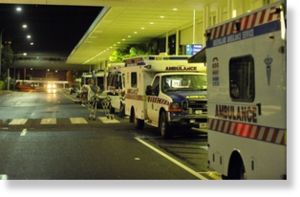 A new craze sweeping the Internet known as "planking" claimed a life in Australia Sunday and police fear the tragedy may not be the last.
Planking involves someone lying flat on their stomach with their arms against their bodies in unusual and sometimes dangerous situations, with photographs of their exploits shared through social media sites.
It has gone viral in recent weeks with Facebook page Planking Australia boasting over 55,000 fans and hundreds of photos of people lying on train tracks, escalators, fire hydrants, motorbikes and other objects.
Police last week warned "plankers" of the dangers and their fears have been realised with the death of a man in Brisbane who plummeted from a seventh-storey balcony and died at the scene.
"This morning we have seen a young man take this activity a step further and attempt to plank on a balcony. Unfortunately he has tragically fallen to his death," Queensland Police Deputy Commissioner Ross Barnett said.