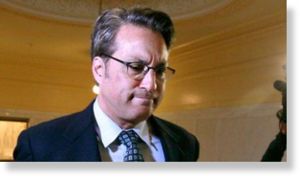 San Francisco's new sheriff is vowing to fight domestic violence and other misdemeanor charges that prosecutors allege are related to a New Year's Eve incident with his wife.
Sheriff Ross Mirkarimi faces one count each of domestic violence battery, child endangerment and dissuading a witness, San Francisco District Attorney George Gascon said Friday.
Mirkarimi was booked at San Francisco County Jail, said San Francisco police Sgt. Michael Andraychak. He was released on $35,000 bail. A police mugshot showed Mirkarimi with his eyes closed.
The sheriff, 50, vowed to remain in office while he fights the charges. He told reporters outside his office Friday afternoon the he denies the allegations.
"The charges are very unfounded," he said calmly. "We will fight the charges."
"We are cooperating," he said.
Gascon said the basis for the child endangerment charge was that the couple's son saw the alleged incident occur. Gascon declined to explain the allegation that Mirkarimi influenced a witness.
"While I do not relish having to bring charges against a San Francisco elected official, I have taken an oath to uphold the laws of the state of California," Gascon said. "Whether this was the elected sheriff or any other San Francisco resident, this type of behavior is inexcusable, criminal and will be prosecuted."
Gascon said prosecutors have also requested an emergency protective order prohibiting Mirkarimi from having contact with his wife and son. He is also ordered to stay away from his home while police investigate other possible domestic violence incidents involving Mirkarimi and Lopez, Gascon said.
Mirkarimi could be arraigned as early as Tuesday, Gascon said.
His wife spoke briefly but with emotion.
"This is unbelievable," she said. "I don't have any complaint against my husband. This is unbelievable."
A neighbor reported that Mirkarimi grabbed and bruised Eliana Lopez's arm during a heated argument at their home, according to a police affidavit.
The injury was shown on a video recorded by the neighbor, and a text message conversation between Lopez and the neighbor included details of the incident, according to the affidavit requesting a search warrant to obtain the video camera and phone.
Lopez, a former Venezuelan telenovela star, defended her husband in a written statement, saying the episode was "completely taken out of context."
The couple was married after having their first child in 2009.
Controversy swirled around the investigation from the start.
Days after the alleged dispute, Mirkarimi was sworn in as San Francisco sheriff, but a judge had declined to perform the ceremony to avoid a potential conflict if Mirkarimi were charged.
Mirkarimi appeared at the ceremony with his wife and son. Asked about the incident, he called it a "private matter, a family matter."
But the case prompted newspaper commentary and protests by anti-domestic violence groups. A coalition of them on Thursday urged Mirkarimi to take a leave from his post until the case is resolved.
San Francisco's sheriff does not have broad law enforcement powers as sheriffs do in other jurisdictions. The position mostly entails overseeing an organization of more than 800 sworn officers and a civilian staff of about 100.
Mirkarimi was elected sheriff in November after serving seven years as one of the city's more liberal supervisors.
If convicted of the misdemeanor charges, Mirkarimi would have to give up his department-issued firearm and possibly be subjected to searches as conditions of probation.
Under state law, Mirkarimi could only be automatically removed from office if convicted of a felony.
Mayor Ed Lee has the authority to charge Mirkarimi with official misconduct and suspend him from office, according to John St. Croix, executive director of the city's Ethics Commission.
Lee issued a statement Friday evening terming the charges "extremely serious and troubling," but did not indicate what actions, if any, he would take.
"As mayor, I must now review the facts and options available to me under the city charter, but I must also ensure that we do not take steps that undermine the integrity of the criminal justice proceedings," the statement said.
After possible hearings, the commission could make a recommendation to the Board of Supervisors about whether to reinstate him or permanently remove him from office.
Source: The Associated Press