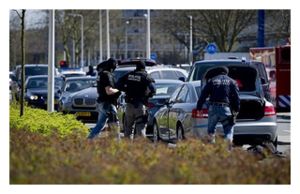 A lone gunman in the Netherlands killed six people after he stormed a shopping centre and opened fire with a machine gun.
Witnesses told how the man, in his mid 20s, began shooting people in the car park before walking calmly through the shopping centre, shooting his victims "in cold blood".
His victims included a woman in a motorised wheelchair, who was shot in the head. A number of children had been shot, but it was unclear whether they were among the dead.
"I saw a woman I know walking at the other side. She wanted to enter a shop when a tall young man approached and shot her in cold blood. He walked calmly and shot through the windows of the shop where I was hiding," said Marjolein Nieuwland.
"I also saw a woman in her motorised wheelchair shot in the head, and at the Albert Heijn (grocery store) there was a young man. Also dead. Later I heard that was the shooter."
The gunman, who was known to local police, later turned a gun on himself. Ten others were wounded in the attack on the Ridderhof mall in the town of Alphen aan den Rijn, 13 miles southwest of Amsterdam.