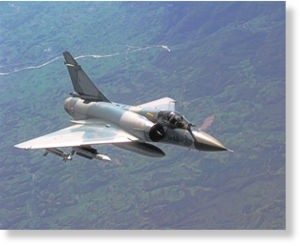 A French Mirage and a Saudi F-15 collided in the kingdom's northern region of Tabuk without causing casualties, state news agency SPA quoted a military official as saying on Saturday.
"During a joint exercise on air engagement a French Mirage aircraft belonging to the French armed forces collided with a Saudi armed forces' F-15," said the statement.
"The Saudi pilot and the two French pilots ejected safely, and were taken to the Northern Sector Command. Investigations are under way to determine the circumstances of the incident," the official told SPA.
"Investigations are ongoing to uncover the circumstances surrounding the accident," it added.
Last May a Saudi F-15 crashed in the kingdom's east and its pilot was killed. The aircraft had been on a "training mission" in the Eastern Province when it came down, the news agency said at the time.
Source: Agence France-Presse