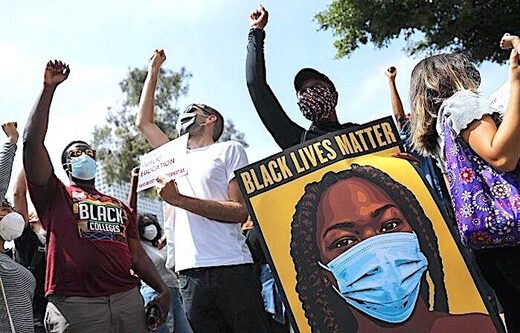 A founding member of the Black Lives Matter Global Network accused former Vice President Joe Biden of capitalizing "on our efforts to defund the police." The organizer of the group's BLM Los Angeles chapter said Biden also tried to condemn the effort at the same time.
Former Vice President Biden
"capitalized on our efforts to defund the police, and then tried to condemn the words at the same time,"
BLM Los Angeles chapter lead organizer Dr. Melina Abdullah said during a Tuesday morning protest,
according to
the Daily Wire.
Abdullah's comments came at the beginning of
a series of protests this week outside the home of Los Angeles Mayor Eric Carcetti. The protests have a stated goal of depriving the city's mayor an appointed position in a potential Biden-Harris administration.
Biden repeatedly claimed to be against the Defund the Police movement and told a news station in September, as Breitbart News' Kyle Olson
reported
:
"I not only don't want to defund the police, I'm the one calling for $300 billion — million more for local police, for community policing."
Abdullah said:
"We want to be very clear that as we happily usher out the Trump regime, we will not accept liberal white supremacy in the White House in the form of Joe Biden." ... "It doesn't matter to me that Kamala Harris is your vice president if you're using her black woman body to usher in oppressive systems and oppressive people like Eric Garcetti."