Society's Child
CNN
Tue, 26 Jun 2012 08:33 UTC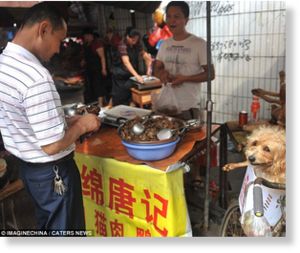 ---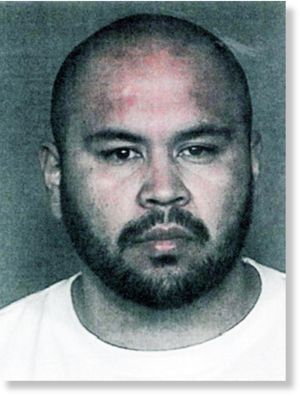 Fontana, California - A masonry teacher and four students have been arrested on allegations that attempted sodomy was part of a brutal hazing in masonry classes at a Southern California summer school, according to police.
Three boys were attacked in separate incidents in the classroom of teacher Emmanuel De La Rosa at A.B. Miller High School, Fontana police Sgt. Robert Morris said.
One 18-year-old student - Fernando Salgado - is being investigated for child cruelty, assault with intent to commit mayhem or rape and attempted sodomy. Salgado is due for arraignment Tuesday.
De La Rosa, 27, may have directed the students to carry out one of the assaults, Morris said.
"They would assault the other kids to basically maintain order in the classroom on their own," Morris said. "The teacher at some point became aware of the situation, and knew about what was occurring and in one incident may have actually directed them to do it."
One of the victims suffered minor injuries. Morris declined to detail the nature of the assaults, citing the ongoing investigation.
De La Rosa was arrested Saturday for investigation of child cruelty and has been placed on administrative leave. Three other students arrested were minors.
De La Rosa, who was released Sunday, could not be immediately reached for comment. Nor could Salgado, who is being held on $100,000 bail.
---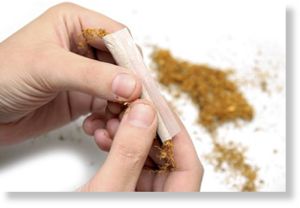 Olympia - A Washington judge blocked the collection of taxes on roll-your-own cigarettes Monday, citing a voter-approved initiative that makes it harder for lawmakers to raise taxes.
Franklin County Superior Court Judge Bruce Spanner granted a request for a preliminary injunction, said Department of Revenue spokesman Mike Gowrylow. He said Spanner considered the upcoming tax in violation of a voter-approved initiative requiring two-thirds of lawmakers to support tax increases.
The Legislature voted earlier this year to force roll-your-own cigarette stores to collect the state's 15-cents-per-cigarette tax, with lawmakers arguing that they were simply enforcing an existing tax and saying that the stores were exploiting a loophole to avoid taxes. Dozens of roll-your-own cigarette stores have appeared recently in Washington, selling cigarettes at less than half the price offered by most retailers.
---
An FBI spokeswoman says the federal agency and local law enforcement agencies have pulled six juveniles out of prostitution and arrested seven people accused of promoting commercial sexual abuse of a minor.

Spokeswoman Ayn Dietrich in Seattle said Monday that the sweep late last week was part of a three-day national enforcement action. This particular operation targeted sites in King and Pierce counties. The spokeswoman says victims and pimps travel throughout Western Washington and don't necessarily live in the area where they were found.

She says the young women were offered services including job training, housing and medical and education assistance. They were found with the help of undercover agents and detectives and by canvassing areas where street prostitution is known to occur.

Source: The Associated Press
---
Suzette Hackney
USA Today
Mon, 25 Jun 2012 00:00 UTC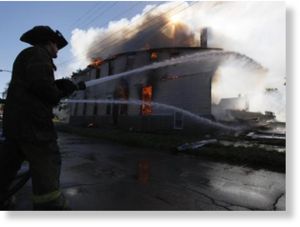 As Detroit continues to work through its financial difficulties, the city will lay off 164 firefighters by the end of July, Detroit Mayor Dave Bing's office announced Monday.
The layoffs could be temporary, as the city hopes to secure a federal grant that would restore the jobs of 108 firefighters. Still, there is no guarantee the city will be awarded the grant, Detroit Fire Commissioner Donald Austin said during budget talks this spring.
"Since I became mayor, I've made public safety my top priority, and I've said I would protect the jobs of police and firefighters, but fiscal realities have made this untenable," Bing said in a statement. "With my administration continuing to work to fiscally stabilize the city and with recent cuts to the city's budget, we're announcing the layoffs of 164 Detroit Fire Department firefighters by the end of July."
Bing said he hopes that many, if not most, of the remaining 56 firefighters who will lose their jobs will be recalled as the fire department loses others through retirement and attrition. The layoffs represent nearly 19 percent of the fire department's 881 sworn firefighters. There are also 248 EMS technicians.
---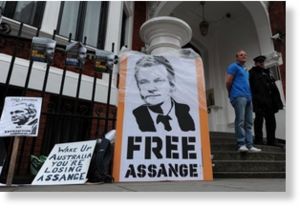 London - It sounds like a brainteaser: how could WikiLeaks founder Julian Assange get from Ecuador's embassy in London onto a plane to its capital Quito, without setting foot on British territory?
When he walked into the embassy on Tuesday seeking political asylum, the Australian ex-hacker pinned his hopes on Ecuador as his ticket out of extradition to Sweden, where he faces questioning over sex crime allegations.
But legal experts say the dramatic escape bid has lured 40-year-old Assange, who had exhausted his British legal options -- into an apparent dead end.
Britain's Foreign Office says that as long as the anti-secrecy campaigner stays in the embassy, which occupies a flat in London's plush Knightsbridge district, he is beyond the reach of the police.
But if he steps outside, he faces immediate arrest by the police for having breached bail conditions, which include staying at his bail address between 10:00 pm and 8:00 am. And Scotland Yard officers are guarding the exits.
---
James Vicini and Jonathan Stempel
Reuters
Mon, 25 Jun 2012 00:00 UTC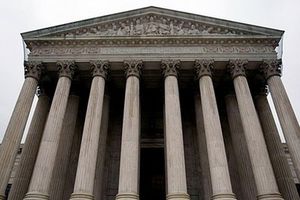 Washington - The U.S. Supreme Court on Monday upheld the main provision of Arizona's crackdown on illegal immigrants but threw out three other parts, handing partial victories to President Barack Obama in his challenge to the law and to the measure's conservative supporters.
In an important test of whether federal or state governments have the power to enforce immigration laws,
the top U.S. court unanimously upheld the statute's most controversial aspect, a requirement that police officers check the immigration status of people they stop, even for minor offenses such as jay-walking.
But in a split ruling, the court also struck down other provisions of the southwestern U.S. state's 2010 law, the first of its kind in the country, that the Obama administration had challenged in court. The votes on those provisions were 5-3 or 6-2, with the more conservative justices in dissent.
These three provisions required immigrants to carry immigration papers at all times, banned illegal immigrants from soliciting work in public places, and allowed police arrests of immigrants without warrants if officers believed they committed crimes that would make them deportable.
---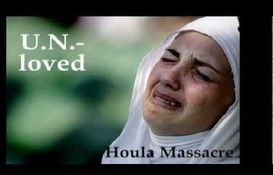 The Houla massacre is a turning point in the Syrian conflict. Supported by the accounts of UN observers, the Western public blames the Syrian army for the bloodbath. This version can be doubted based on reports from eye-witnesses, according to whom the civilians were killed by Sunni rebels.
The Houla massacre was a turning point in the Syrian drama. The worldwide outrage was great as 108 people, among them 49 children were killed in Houla on May 25. Calls for a military intervention to put an end to the bloodshed in Syria became louder and the violence in the country has unrelentingly increased ever since. Based on Arabic news channels and the UN observers visit on the next day, world opinion almost unanimously accuses the regular Syrian army and the regime-affiliated Shabiha for the mass murder.
The German daily
Frankfurter Allgemeine Zeitung
(FAZ) questioned this version on the basis of accounts from eye-witnesses. The newspaper had reported that the killed civilians were Alawites and Shiites. They were intentionally killed by armed Sunni insurgents in Taldou, a town in the plains of Houla, as violent clashes broke out between the regular Syrian army and units of the [so called] Free Syrian Army at checkpoints around the village. This account was taken up by many media outlets worldwide and rejected by many as incredible. Therefore four questions arise: Why does the world opinion so far follow another version? Why does the context of the civil war make this doubted version plausible? Why are the witnesses reliable? What other facts support this version?
---
RT
Mon, 25 Jun 2012 20:10 UTC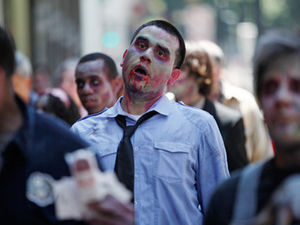 Emergency officials in Maine have taken part in a training exercise in preparation for a zombie apocalypse. This comes just weeks after the federal government publicly denied the existence of zombies.
­Around 100 emergency responders from eight different counties participated in the event in the quiet city of Bangor.
The premise: an unknown virus originating from Jamaica has reached Maine, turning the infected into zombies. Once infected, the virus quickly spreads to the brain, and turns the host into a full-fledged zombie, who has only one thing on its mind: biting other people.
The officials were armed with two would-be vaccines - one to prevent the infection from reaching the brain, and one to bring the zombies back to life.
"We have identified in several states, particularly Texas, New York, Illinois outbreaks of these civil disturbances and biting," one official said. "And in conjunction with that there are also widespread power outages
.
"
---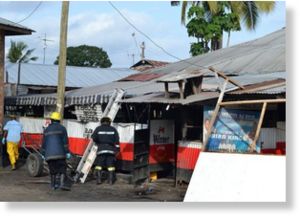 Nairobi - A Kenyan court charged two Iranian nationals with illegal possession of explosives Monday, a day after a grenade attack on a bar in the southern city of Mombasa that killed three people.
The Iranians, whom police said they arrested last week over suspected links to a terror network planning bombings in Mombasa and Nairobi, are accused of possessing 15 kilos (33 pounds) of the powerful explosive RDX, according to the charge sheet presented in court.
The pair, Ahmed Mohamud and Said Mausud, were "armed with intent to commit a felony known as grievous harm", the charge sheet said.
The two men, who were not represented by a lawyer, denied the charges.
---