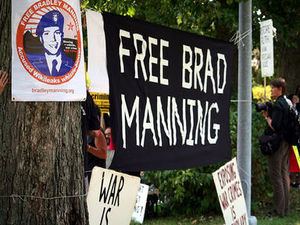 As Julian Assange fights an extradition order in London, Bradley Manning, the US soldier accused of handing over government files to WikiLeaks, has been slapped with 22 new charges.
The US Army announced the new charges today against Pfc Manning, which could see him go to prison for life.
"Aiding the enemy" is the most serious and significant of the additional charges, said Private Manning's lawyer, David Coombs.
He also said that the soldier's defence had been preparing for the possibility of extra charges for the past number of weeks.
According to the charge sheet, the 23-year-old is also accused of wrongfully causing intelligence to be published on the Internet, knowing that it was accessible to the enemy and multiple counts of theft of public records, transmitting defense information and computer fraud.
The New York Times
has a copy of the
charge sheet here
.
"The new charges more accurately reflect the broad scope of the crimes that Private First Class Manning is accused of committing," said Capt. John Haberland, an Army spokesman.