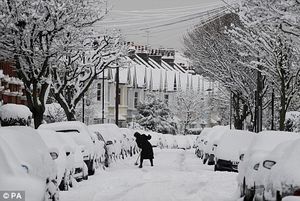 The number of climate change sceptics has almost doubled in four years, official research showed yesterday.
A quarter of Britons are unconvinced that the world is warming following successive freezing winters and a series of scandals over the credibility of climate science.
The figures suggest that a growing proportion of the public do not share the belief of all three major political parties and Whitehall - that climate change is a major and urgent challenge requiring radical and expensive policies.
The survey, carried out by the Office for National Statistics, has plotted levels of acceptance of the theory of man-made global warming since 2006.
In that year it found that 87 per cent of people were at least 'fairly convinced' that climate change was happening.