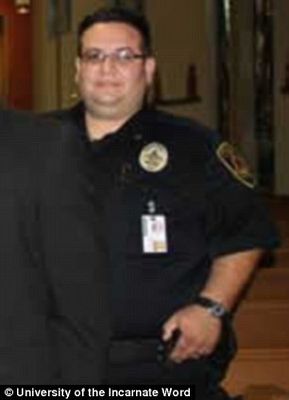 The campus policeman who shot dead a straight A student at the University of the Incarnate Word in Texas has been pictured for the first time.
Cpl. Chris Carter, an officer with the San Antonio university's 17-strong police force, shot dead Robert Cameron Redus early Friday following a traffic stop outside the student's apartment.
The news comes as one of Redus' neighbors, Mohammad Haidarasl, 22, described hearing the 23-year-old's last words before his life was tragically cut short.
'I heard (a man) say, "Oh, you're gonna shoot me?'" in a surprised voice,' Haidarasl said. Les than a minute later he said he heard four to six gunshots.
Carter was grabbing a burger for himself and his colleague when he spotted Redus' car speeding and then hit a curb, police said.
He sounded his siren and pulled the vehicle over as it drove into The Treehouse Apartments where Redus lived. Redus got out of the car and went to walk into his home.
Carter, who had nine law enforcement jobs within seven years, responded with his firearm after Redus apparently grabbed his baton and used it to strike him in the head and arm.
According to the Express-News,
people who know the officer described him as 'mean.'
'He was mean,' Hugo Bustillos, a former neighbor, said. Bustillos lived above Carter's apartment for about a year. He said Carter also had run-ins with at least one other tenant over his dog before he moved away last year.