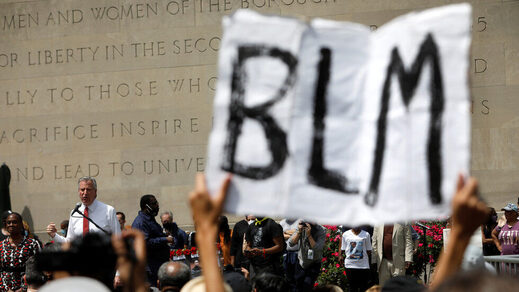 New York Mayor Bill de Blasio has banned all large public events for the next three months, citing the Covid-19 pandemic - only to make a belated exception for Black Lives Matter rallies, incensing Americans far outside the city.
Fresh from painting a giant "Black Lives Matter" mural on Fifth Avenue in front of Trump Tower, the mayor took to CNN to expand on his office's order to cancel all large gatherings through September 30 on Thursday. But when host Wolf Blitzer asked him about
"protests,"
de Blasio couldn't resist taking the day's pandering even further.
"We understand, at this moment in history, people are talking about the need for historic changes... this is a historic moment of change," de Blasio said redundantly, even while consigning outdoor concerts and parades to the distant future. No public gatherings larger than a city block will be granted a permit, the mayor announced in a
statement
published to his administration's website earlier on Thursday.
However, he appeared to draw a clear distinction between "the kind of gatherings we're used to, the parades, the fairs," which "we just can't have that while we're focusing on health right now" - and "recognizing the power and the meaning of the message Black Lives Matter, which we did in front of Trump Tower today."