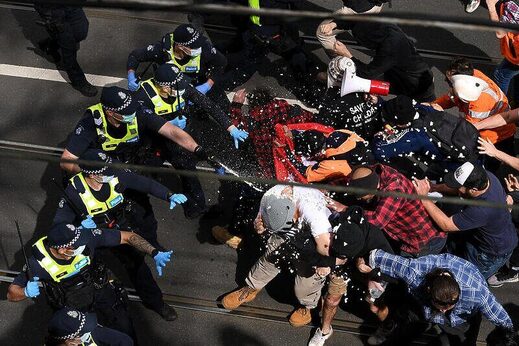 MELBOURNE DYSTOPIA
Melbourne has spent 228 days in lockdown since since March 2020.
The state is set to notch up a grim world record for the most days spent under stay-at-home laws when it passes Buenos Aires on September 23.
People have lost everything, and the past 12 months have seen unprecedented shifts.
Yet, despite spending more time in lockdown than most of the world, citizens of Melbourne are still unable to exercise their democratic right to protest.
Despite admitting
there was no evidence
that the
last freedom protest
spread any virus, Daniel Andrews
turned the police against the public
today and deprived them of basic services such as public transport, all in the name of 'public safety'.
2,000 police gathered in a large group, to prevent people gathering in large groups.
Melbourne's beating heart, the CBD and inner suburbs, became almost silent this morning — other than the sound of police and media helicopters. A
Brave New World Order
.
Melbourne is already in lockdown, so a 'double lockdown' zone applied across up to 360 square kilometres of the city. Tram, train and bus routes that transverse the CBD were shut down.
The agenda was to prevent protesters from gathering in the city.
However, this plan ultimately failed, with protesters determined to have their voices heard.
Demonstrators turned out in Melbourne to protest against lockdown measures, as they swarmed in front of traffic in Richmond, in the Victorian capital's inner-suburbs.