Comment:
This is beyond mental. They seem to believe COVID-19 is Ebola or something.
It's
NOT EVEN the flu
, you morons!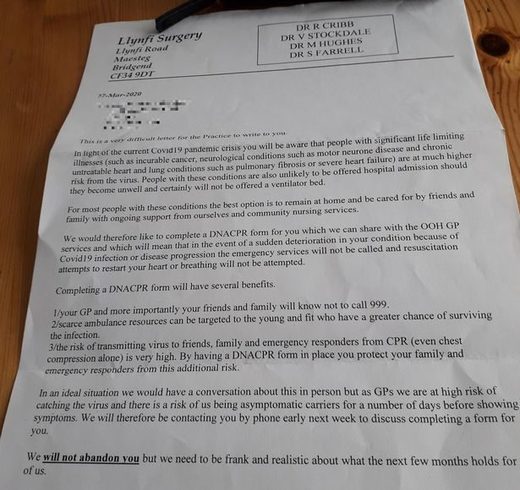 A GP surgery sent people with "significant life-limiting illnesses" a letter saying they would "like to complete a DNACPR (do not attempt CPR) form" for them.
Llynfi Surgery, in Llynfi Road,
Maesteg
,
sent the letter to patients with serious health conditions such as incurable cancer, motor neurone disease, and untreatable heart and lung conditions, on March 27
.
It said that people with these conditions are "unlikely to be offered hospital admission" if they become unwell with coronavirus and
"certainly will not be offered a ventilator bed".
The letter was sent to WalesOnline by a patient who wished to remain anonymous. They said: "It not only greatly upset me but my family and close friends.