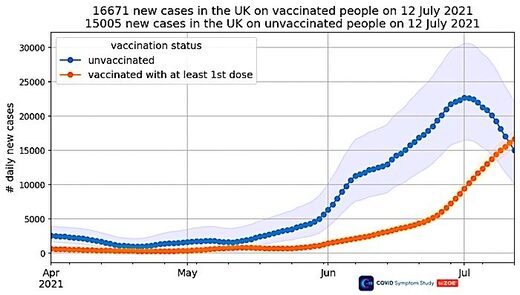 Health Secretary Sajid Javid has
tested positive
for SARS-CoV-2, despite being vaccinated - and he is far from alone.
The latest ZOE data shows that, as of July 12th, infections in the vaccinated (with at least one dose) in the U.K. now outnumber those in the unvaccinated for the first time, as the former continue to surge while the latter plummet (see above).
(Note that 68% of the population has had
at least one vaccine dose
, so there are still at this stage disproportionately more new infections in the unvaccinated, though on current trends that may soon change.)
At what point will the Government accept that these vaccines have
limited efficacy
in preventing infection and transmission, and thus the whole rationale of being vaccinated to protect others - vaccine passports, compulsory vaccination, and so on - is suspect?