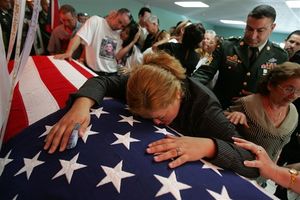 Washington - A bipartisan group of senators is asking President Barack Obama to change the current "insensitive" policy of not sending condolence letters to families of service members who commit suicide.
A letter signed by 11 senators -- 10 Democrats and one Republican -- and sent Wednesday urges the president to "take immediate steps to reverse the long-standing policy of withholding presidential letters of condolence" to families of troops who killed themselves.
The policy, which goes back several presidents, has been the subject of protest by military families. CNN first reported in 2009 about the family of Spc. Chancellor Keesling, who killed himself while serving in Iraq.
The family set up a wall to pay tribute to Keesling in their Indiana home. Along with his uniform and the flag from his burial service, a space was left for the expected condolence letter from the commander in chief.