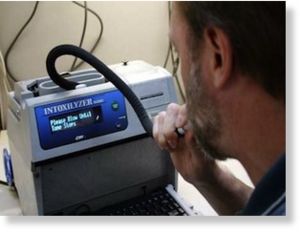 The Florida Department of Law Enforcement (FDLE) has fallen under scrutiny for paying several employees to drink alcohol on the job in order to test a breathalyzer.
Last October, the department allocated $300 for Jim Beam whiskey, Doritos and drink mixers. The
Herald Tribune
reports
that it was part of an effort to preserve the embattled "Intoxilyzer 8000" from being phased out. 15 law enforcement employees were then invited to department headquarters in Tallahassee to drink and eat on the job.
The department set up a video camera to record the events, while FDLE crime analysts, staff assistants and Capitol Police officers drank. Blood tests were then taken and sent to a local lab with a total price tag of $8,000 for the effort.
FDLE's Laura Barfield then appeared in a Sarasota County courtroom hearing to present the test results as evidence that the Intoxilyzer results were accurate.
However, it's unclear whether the test results will even be accepted. "That doesn't really address the problem," said Dr. John Robinson, a biostatistics consultant with expertise in health care. "It's only performed at one time, with a small group of people."