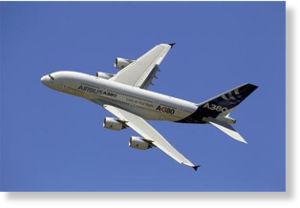 Airbus said on Thursday it had discovered more cracks in the wings of two A380 superjumbo aircraft but insisted the world's largest jetliner remains safe to fly.
It is the second time in as many weeks that hairline cracks have been reported in the wings of the double-decker aircraft, which first entered service four years ago, and they are expected to lead to additional safety checks.
"Airbus confirms that some additional cracks have been found on a limited number of non-critical brackets ... inside the wings of some A380s," the planemaker said in a statement.
"Airbus emphasizes that these cracks do not affect the safe operation of the aircraft".
Airbus has dismissed calls to ground its superjumbo fleet over the cracks, which first came to light during repairs of a Qantas A380 that was damaged by an engine blowout shortly after taking off from Singapore in November 2010.
Two aviation industry officials said European safety inspectors would however order additional safety inspections.
A spokesman for the European Aviation Safety Agency confirmed it would issue an airworthiness directive on Friday.
EASA and its U.S. counterpart, the Federal Aviation Administration, issue dozens of bulletins weekly from routine updates to emergency directives following a major scare.
The latest cracking problem was discovered in two aircraft during routine two-year inspections, an Airbus spokeswoman said.
She declined to name the operator of the aircraft, but two industry sources, asking not to be identified, said the latest discovery involved aircraft operated by Dubai's Emirates.
Although Emirates did not comment on the latest Airbus disclosure, a spokesperson said the airline was awaiting an update from EASA regarding cracks found several weeks ago in the wings of five A380 aircraft.
"We continue to closely monitor our A380 fleet," the spokesperson said. "The aircraft remain fully airworthy and pose no risk to flight safety as affirmed by EASA and the aircraft manufacturer, Airbus. The safety of our passengers and crew is our highest priority."
Earlier this month, Singapore Airlines and Qantas said they had found some cracks in A380 wings.
The latest problems were discovered in the same type of part as the earlier set of cracks, an L-shaped bracket which connects the wing's exterior to the internal "rib" structure.
However the appearance and location of the latest set of cracks were different. Two out of nine aircraft tested were found to have the newer cracks in the centre part of the wing.
Manufacturing Error
Aviation experts say the presence of tiny cracks is more risky near the root of the wing where loads are at their peak and least risky at the tip where the wing does the least work.
Designers say modern aircraft are built on a failsafe principle, allowing gigantic loads to be carried by a different part of the structure when one part fails, and most cracking is usually captured early without generating publicity.
"I don't think people necessarily need to be worried about cracks because they are caught in advance and repaired," said Snorri Gudmondsson, assistant professor of aerospace engineering at Embry-Riddle Aeronautical University in Daytona Beach, Florida.
"If the rib feet failed, the load would be transferred to other structural parts. These would eventually develop cracks themselves and increase the chances they would be discovered."
However, despite being billed as Europe's "21st century flagship," the A380 has had an unpredictable ride due to development problems and the Qantas blowout, and Toulouse-based Airbus is anxious to prevent any further damage to its image.
Officials said the cracks most likely stemmed from a manufacturing process that put too much stress on the brackets, known as rib feet. The parts themselves were not flawed, according to specialist journal Air Transport Intelligence.
The A380 -- developed at an estimated cost of 12 billion euros in Britain, France, Germany and Spain -- has room on its wings to park 70 cars and a wingspan of 79.8m (261ft 10in).
Its wings are assembled in Broughton, north Wales, and sent by barge, ship and special road convoy to Airbus headquarters in Toulouse, France, where they come together with fuselage, cockpit and avionics in final assembly.
Airbus last week announced plans to outsource some work on smaller aircraft wings from Broughton to Korean Aerospace Industries <047810.KS>, drawing fire from British unions who said the move gave an unnecessary edge to foreign rivals.
Airbus, the planemaking subsidiary of EADS , has so far delivered 68 superjumbos, starting with Singapore Airlines which took the first aircraft in December 2007. It was followed by Dubai's Emirates and Australia's Qantas.
Other operators include Air France , Germany's Lufthansa , Korean Air <003490.KS> and China Southern <600029.SS>.