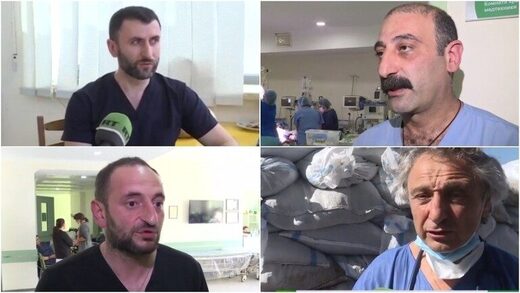 Medics from as far away as France who came to help as fighting between Armenians and Azerbaijanis erupted in Nagorno-Karabakh, have told RT they weren't fully prepared for the atrocities and have called for the fighting to stop.
Intense clashes between ethnic Armenian and Azeri forces over Nagorno-Karabakh have been raging since late September.
The mainly Armenian-populated region, which is internationally recognized as part of Azerbaijan, declared independence from Baku in 1991
and has since been backed by Armenia, which has stopped short of officially recognizing it. Azeri authorities consider Nagorno-Karabakh illegally occupied by Yerevan, proclaiming that they want to get their territory back.
Baku is being backed by Turkey in this latest flare-up, and reports have claimed that Syrian mercenary fighters have been airlifted to fight against Armenians.
The
warring parties are unwilling to share information about their losses
, but numerous people are reportedly being killed and maimed on both sides every day. In Stepanakert, Nagorno-Karabakh's main city, foreign medics mainly of Armenian origin, are working almost 24/7 to tend to the wounded.