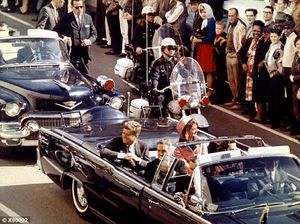 The last remaining FBI agent present for the autopsy of President John F. Kennedy has died, and with him goes one more account version of what happened when the 35th President was assassinated.
James Sibert was 93-years-old when he died two weeks ago, but he is undoubtedly going to live on in history as one of the people that helped promote the conspiracy theories that followed the president's death that continue to this day.
In interviews following his retirement from the FBI, Mr Sibert publicly said that he 'didn't buy the single bullet theory' which was what the government investigation concluded as fact.
The shooting death of President Kennedy on November 22, 1963 while he was riding in an open-topped convertible along a parade route in Dallas, Texas.
Because of the hurried pace of the investigation, the quick vigilante murder of the lone suspect, and conflicting reports of who knew what have spawned on an undying slew of conspiracy theories that Mr Kennedy was shot by a long list of people other than Lee Harvey Oswald, the man officially thought to have 'acted alone'.