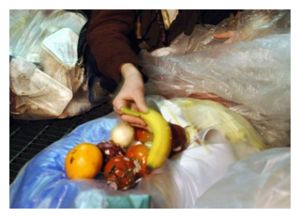 It was a commenter on my Facebook page who put the
'skipping' charges against three men
who were taking discarded food from a bin at an Iceland store in North London in the best perspective I've seen - they said:
if there's a crime here, it's only the (non-legal) one of wastefulness, in which case it's the supermarket that should be in the dock, not the dumpster divers.
Three men are being charged - the Crown Prosecution Service (CPS) has said it sees "significant public interest" in proceeding - accused of taking stealing tomatoes, mushrooms, cheese and Mr Kipling cakes
from a supermarket's bins
. Police say they retrieved and "returned" the items to the store. That is to say they ensured what was undoubtedly perfectly good food went into (at best) composting or anaerobic digestion, but quite likely into landfill.
You do have to wonder if there's a campaigner in the CPS who thinks it is time to put the entire supermarket model of food distribution on trial.
Recently, Tesco admitted that more than 30 per cent of bagged salad is wasted in store, and 40 per cent of apples. In total in the first six months of last year, 28,500 tonnes of food waste were generated in its stores and distribution centres. No doubt the other giant oligopolists that dominate our food chains are similar.
The fact that 'dumpster diving'/'skipping'/'bin raiding' is a new phenomenon is clear from the absence of a settled name - but it's clear that it the practice is spreading fast. That's a product of the rising desperation in our society that has seen foodbanks become one of our fastest growing industries, as I saw for myself last week on a visit to one in prosperous Winchester.