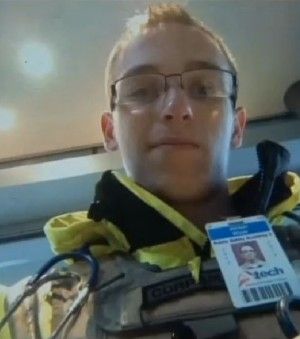 Enrolled in an Ohio vocational-technical school, Wiser was taking Firefighter 2 and EMT courses to bolster his dream of future public service.
"Last year, I completed the law enforcement course," the 18-year-old told
The Huffington Post
. "I received several certifications, including the National Terror Defense certification from FEMA, the Terror Recognition certification and (certification as an) Emergency Vehicle Operator."
Wiser also joined the Army, enrolling the Future Soldiers program, and was scheduled to ship out in August. After his planned military service, he figured he'd embark on a career as a police officer or firefighter.
But Wiser's big dreams of public service are on hold. In fact, he's now enduring a nightmare.
It all started Dec. 12 when administrators at Ashtabula County Technical and Career Campus (A-Tech) in Jefferson, Ohio - about 60 miles northeast of Cleveland - questioned Wiser after an alleged tip regarding videos uploaded to Wiser's
YouTube account
. Among the clips are reviews of video games and merchandise, home defense tactics, and an interview with a local police officer.