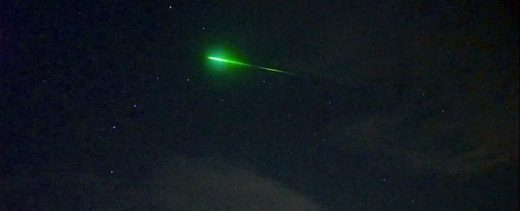 On the night of November 19th, amateur astronomer Klaas Jobse captured a green meteor/fireball over the Dutch village of Oostkapelle.
Estimating the size of the fragment as that of a large marble, Jobse
told
regional broadcaster
Omroep Zeeland
that "s
uch a fragment of a comet enters the atmosphere with a gigantic speed and then a spectacular reaction occurs, with this fireball as a result.
"
While he suspects the meteor fragment originates from the Leonids,
he remarked that a great fireball such as this one is extraordinary
. "
It was pretty clear, so you could see it beautifully. And it was very bright. I think you can compare it with the light of a full moon. Yes, for an amateur astronomer, this is the icing on the cake.
"
See the footage of the fireball in the video below (00:11-00:15):