Something unusual in the sky made such an impression on a Mount Pocono man last month that he's still wondering about it.
Ernest Gross wants to know if anyone else saw the same strange, luminous, unidentified object that caught his attention.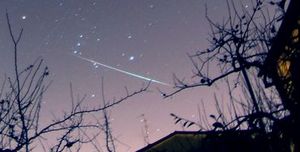 ©Unknown
Meteors from the Geminid Meteor Shower on Dec 14 could be seen all over the world, as seen here from Italy.