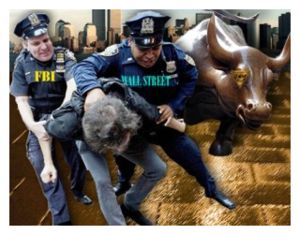 Government believes resistance to corporate-banking complex a form of terrorism
.
Newly released Federal Bureau of Investigation (
FBI
)
files
prove that federal agencies within the United States government colluded with the private sector to spy on the Occupy Wall Street (
OWS
) movement even before the first demonstration was held in New York City's
Zuccotti Park
.
"These documents show that the FBI and the
Department of Homeland Security
are treating protests against the corporate and banking structure of America as potential criminal and terrorist activity," stated Mara Verheyden-Hilliard, Executive Director of the Partnership for Civil Justice Fund (
PCJF
).
"These documents also show these federal agencies functioning as a de facto intelligence arm of Wall Street and Corporate America."
In the fall of 2011, PCJF filed
Freedom of Information Act
demands with various federal and local law enforcement agencies to determine if there was a concerted effort to crackdown on the OWS movement. After stonewalling for more than a year, the FBI finally surrendered a public version of their internal communications on the weekend before Christmas, 2012.
"The documents are heavily redacted, and it is clear from the production that the FBI is withholding far more material," says PCJF staff attorney Heather Benno. "We are filing an appeal challenging this response and demanding full disclosure to the public of the records of this operation."
The documents identify a department within the FBI, known as the Domestic Security Alliance Council (
DSAC
), as being directly involved in coordinating the intelligence gathering activities against the OWS movement.