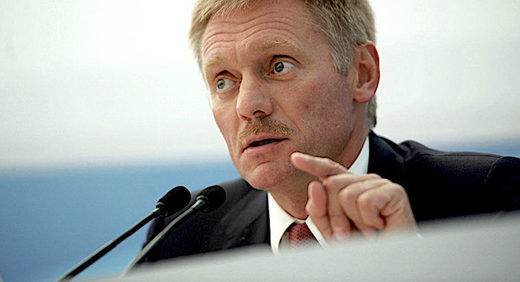 The Kremlin respects the citizens' right to take part in rallies provided they are conducted in accordance with the law, Russian Presidential Spokesman Dmitry Peskov said.
When commenting on the protests that took place in a number of Russian cities on Sunday, he said that "
the Kremlin respects people's civil position and their right to express it." "But we respect it when civil activism is expressed in accordance with the law and in places where the law prescribes
," Peskov added.
He added that the Kremlin "cannot respect those who deliberately misguide people and who instigated these illegal activities yesterday." "
We cannot respect those who deliberately misled underage minors promising them some payment in return for participating in an unauthorized protest, thereby exposing them to danger
. We cannot accept, nor respect this," Peskov added.
The Kremlin is not worried about any possible repetition of such protests, but is concerned that some elements will manipulate civil activists for their goals, the spokesman said.
The thing is not about fears. We are afraid that someone will continue using civil activists, people who are actively engaged in civic activities, for their goals, calling on people to take part in illegal and unauthorized events. We are concerned about this, not about the manifestation of civil activism and holding various events in line with the law," Peskov explained.
The Kremlin spokesman noted that there is a rather active dialogue with the civil society through different channels and at various levels.
He stressed that the president actively contacts with people who work in different fields. "During this dialogue there is a constant exchange of information and the possibility is given to understand the current problems and if people are dissatisfied and their assessment on the positive outcome of the authorities' work," he said.
All those eager to demonstrate will be able to participate in rallies, but in strict compliance with Russian laws, the spokesman stressed.
"
In the future this will be possible for all those who wish to do so in strict compliance with our legislation. There have never been any obstacles to this
," Peskov said.
Downtown Moscow rally not authorized
The Kremlin slammed statements by the protest's organizers in Moscow that Sunday's rally was authorized, calling them outright lies and a provocation.
The rally in the Russian capital had not been authorized and the city authorities offered two alternative sites for a demonstration and a march. The organizers rejected both sites
, "in fact bringing people to a prohibited venue," Peskov added.
"We regret that our active citizens did not want, probably, mainly due to the lack of knowledge, to use the alternative sites." Peskov said.
Underage minors participating in protests
Law enforcement agencies are conducting a probe into reports of underage kids taking part in these protests in return for money.
"
There have been reports saying that underage children were told they would be paid if they were detained," the Kremlin spokesman said. "There is evidence to prove that
," he added.
"If law enforcement agencies find it necessary, then the evidence will be made public," Peskov said adding that he was citing facts.
Authorized rallies
The Kremlin will take heed of the demands voiced by the protesters who took part in last weekend's authorized rallies, Peskov stressed.
"In some cities, the rallies were agreed on and were allowed and they took place in strict accordance with the law without any excesses," Peskov noted.
"In these cases, no doubt, these slogans, these proposals that were voiced, that criticism that was pronounced will be taken into account," the Kremlin spokesman added.
As the Kremlin spokesman said, "all the actions held in compliance with the law at agreed places and times won't be brushed aside."
The Kremlin spokesman said he wouldn't give any quantitative estimates of the weekend protests.
"It depends on what we compare it to and what we proceed from," Peskov said.
"The Kremlin analyzes the scope of yesterday's action quite soberly and is not inclined either to underestimate or exaggerate this scope," he noted.
The Russian president was informed of the protest rallies, the Kremlin spokesman stated.
"He undoubtedly receives local reports daily," Peskov said in reply to a question about whether the head of state was informed about the protests, considering that the rallies took place on the weekend.
"
We can't downplay the fact that an attempt to hold an unauthorized rally took place in the capital yesterday. Let's call a spade a spade.
This took place in the center of the city.
Naturally, this situation was reported to the president," Peskov said.
Kremlin praises 'highly-professional job' by law enforcement officials
The actions of law enforcement bodies at Sunday's protest rallies in a number of Russian cities were "fully correct, highly professional and legal," Peskov emphasized.
Peskov recalled that the Moscow rally was unsanctioned.
"
They (protesters) came to the city's center, blocking traffic and hindering safety of crowds of pedestrians
," the spokesman explained.
He also said the Kremlin does not consider it necessary to respond to the calls by the Council of Europe and the US State Department to release those detained during the rallies.
"We cannot agree with this appeal and cannot take it into account. The obligations at the Council of Europe do not imply the need to violate our domestic legislation," Peskov emphasized.
Lavrov slams West's reaction to protests across Russia as usual double-standards
Western countries' reaction to unsanctioned protests in Moscow and the rest of Russia over the weekend was a double-standard reaction, Russian Foreign Minister Sergey Lavrov said on Monday.
"I proceed from the stance that each country has laws, based among other things on the universal criteria, - and in this particular case on the criteria, stipulated by the international pact on civil and political rights - envisaging freedom of speech and the right for gatherings
as well as exceptions when it concerns the state security and the moral well-being of society,
" Lavrov said.
"Before this pact was recognized, one of the prominent figures said that
the freedom is to abide by laws
," he said. "Therefore, the laws, which are stipulated in the universal international legal tool of sovereign states to impose restrictions on events that may result in mass unrests, are the basis of this freedom we are talking about."
Commenting on the public reaction regarding protests in Moscow and other cities across Russia," the Russian foreign minister said he "heard reaction only from official executives from a number of European countries and the United States."
"
When events of the same level provoke different reaction all we can think of in this regard is infamous double standard," Lavrov said. "I cannot remember, when somebody expressed a strong and public reaction regarding the decisions, recently made in Austria, Holland, Germany, where the authorities banned holding certain protests
," Lavrov said.
"It did not concern anyone and nobody said anything about it," the top Russian diplomat added.
Commenting on reported detentions of protesters during the unauthorized rallies in Russia on Sunday, Lavrov said such instances were registered previously in other countries as well, but went largely unnoticed.
"Considering the detentions,
I remember how in a number of European capitals and in the United States police dealt with such violators resorting, among other means, to the use of batons and tear gas, in case protesters gathered in locations, which they were banned from, and followed among the routes, which were not sanctioned
," he said.
"Russian journalists were also in such situations, particularly an RT (Russian Today) crew in the United States, where they were detained trying to deliver a report on some sort of unrest connected with protests," Lavrov said.