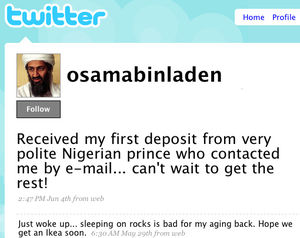 The flagship Twitter account of Al-Shabab, Somalia's Al-Qaeda-linked terror group, was closed Friday for the second time this year, less than 24 hours after a US-based terrorism expert reported violations of Twitter's terms of service.
The closure comes only days after Al-Shabab claimed a failed assassination attempt against Somalia's president and tweeted that the next time the president wouldn't be so lucky.
Al-Shabab uses Twitter mainly to make claims of enemy kills and to spread its view of events in Somalia and East Africa. A United Nations report on Somalia released last month said UN experts believe the person running the English-language account is a British member of Al-Shabab.
Twitter in January suspended Al-Shabab's previous account two days after the group used the platform to announce a death threat against Kenyan hostages. Twitter's terms of service says it does not allow specific threats of violence against others in its posts.