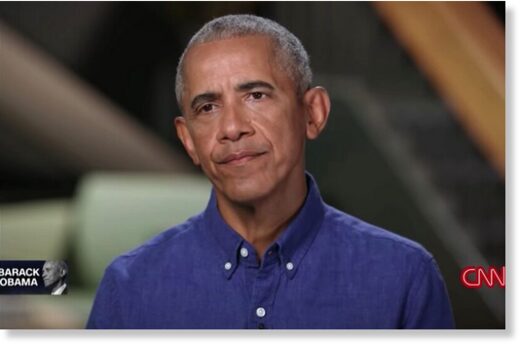 Former President Obama is claiming right-wing media outlets of profiting by stoking "fear and resentment" among white people toward a "changing America" — pointing to national pushback on critical race theory as an example.
The 44th commander-in-chief told Anderson Cooper in a
CNN special Monday
that many race problems are a reflection of the US not having "fully reconciled with our history."

Comment: Many of today's race problems are caused by individuals not reconciled with contemporary reality; not everything can or should be seen in the narrow scope of race relations - despite what proponents of critical race theory would have you believe.


He said it was "hard for the majority" of white Americans "to recognize you can be proud of this country and its traditions and its history and our forefathers and yet, it is also true that this terrible stuff happened."
"The vestiges of that linger and continue," Obama said.
The Democrat said that his political opponents would often "not only block that story but try to exploit it for their own political gain."

Comment: Obama is projecting Big Time here. It is the Dems and progressives that have been exploiting the radical left movement for their own political advantage...


"I also think that there are certain right-wing media venues ... that monetize and capitalize on stoking the fear and resentment of a White population that is witnessing a changing America and seeing demographic changes," he said, without identifying specific outlets.

Comment: More projection: Groups like BLM, Antifa and other far left groups thrive on their resentment of others - and use this hysteria in their attempts to accrue more power for themselves. They are the pawns of the political elite who have been using the activists as a kind of forward team or proxy force of woke policies; a camouflage for a decidedly illiberal agenda.