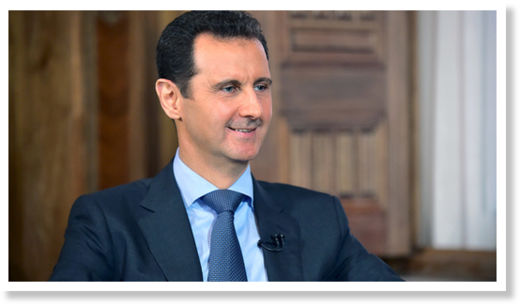 The Western media narrative about brutal "dictator" Bashar al-Assad is falling apart at the seams, Australian academic Tim Anderson underscores, adding that the leader still enjoys high public support in Syria.
There is a huge gap between the Western ugly "caricature" of the Syrian President and the real political figure of Bashar al-Assad, Syria's popular secular leader,
Tim Anderson, Senior Lecturer in Political Economy at the University of Sydney, notes.
"When I met President Assad, with a group of Australians, his manner was entirely consistent with the pre-2011 image of the mild-mannered eye doctor. He expressed deep concern with the impact on children of witnessing terrorist atrocities while fanatics shout 'God is Great.' The man is certainly no brute, in the manner of Saddam Hussein or George W. Bush," Anderson underscored in his article for Global Research.
If Bashar al-Assad were indeed a brutal tyrant, he and his army would have been abandoned by Syrians and defeated long ago.
According to Western media reports, President Assad, the head of an 'Alawi regime,' has
launched repeated bombings of civilian areas, gassed children and cracked down on the freedom-loving "moderate" opposition.
"Central to the Bashar myth are two closely related stories: that of the 'moderate rebel' and the story that conjures 'Assad loyalists' or 'regime forces' in place of a large, dedicated national army, with broad popular support," Anderson elaborated.