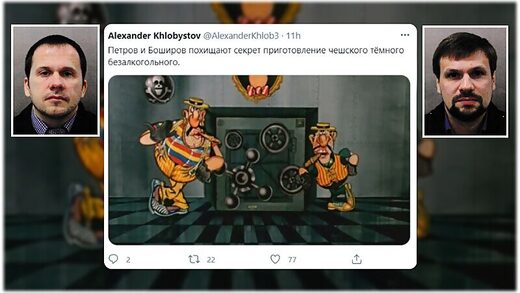 A wave of ridicule was unleashed on Russian social media after the Czech police identified two suspects, who appeared to be related to a 2014 blast. They are the same people the UK accused of the high-profile Skripal poisoning.
A diplomatic scandal rocked Russian-Czech relations this weekend just before a scheduled visit to Moscow by Czech Foreign Minister Jan Hamacek. Prague expelled 18 Russian diplomats and accused Moscow of sending intelligence agents to blow up a munitions depot a few years ago.
The news would have been received with much less amusement in Russia, were it not for the alleged identity of the suspected saboteurs. While the Czech police did not directly mention the 2014 explosion, they named the region where it took place - and pointed the finger at the same people, who already stand accused by Britain of going after Russian double agent Sergei Skripal, who was poisoned in Salisbury in 2018. Best known as Alexander Petrov and Ruslan Boshirov, they are said to be agents of the Russian military intelligence agency, the GRU.