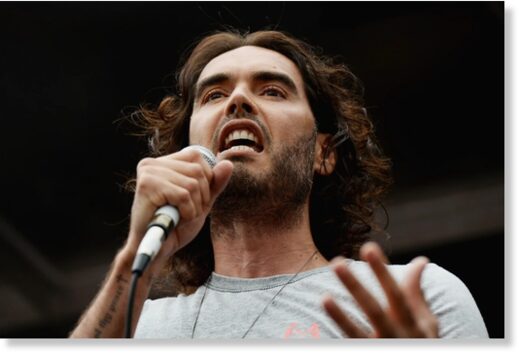 YouTube has blocked
Russell Brand
from making money off its platform and the BBC
pulled some of his shows from its online streaming service
in the wake of
rape and sexual assault allegations
against the comedian-turned-influencer.
YouTube said in a statement early Tuesday that it had "suspended monetization" on Brand's channel for violating its "creator responsibility policy."
"If a creator's off-platform behavior harms our users, employees or ecosystem, we take action to protect the community," the online platform said.
Brand has developed a major following on his YouTube channel in recent years, amassing more than 6.6 million subscribers while cultivating a persona as a "wellness" and conspiracy influencer.
The
BBC also reported
it had removed "some programmes" featuring the former actor that were "deemed to 'fall below public expectations'" from its streaming services, iPlayer and Sounds.
"There is limited content featuring Russell Brand on iPlayer and Sounds," the BBC said in a statement published by the U.K. public broadcaster on Tuesday. "We've reviewed that content and made a considered decision to remove some of it, having assessed that it now falls below public expectations."
Other platforms hosting material from Brand, including Spotify and Luminary, did not immediately respond to requests for comment from NBC News.
The developments come after multiple sexual assault allegations against the British star were published over the weekend, with Brand, 48, accused of rape, sexual assault and emotional abuse by four women in a joint investigation by the
Times of London, The Sunday Times and Channel 4 Dispatches
. A fifth woman accused him of flashing his genitals at her. Brand has denied the allegations and said his relationships have all been consensual.
In a video posted to his social media accounts prior to the publication of the allegations, the comedian said he had received "extremely disturbing" communications from a mainstream TV company and a newspaper "listing a litany of extremely egregious and aggressive attacks.""But amidst this litany of astonishing, rather baroque attacks are some very serious allegations that I absolutely refute," Brand said.
On Monday, London's Metropolitan Police Service said it was investigating a report of an alleged sexual assault in 2003 in the wake of allegations against Brand.
The police department told NBC News it received a report of sexual assault against Brand on Sunday, a day after the publication of the investigation and the airing of a documentary on the subject on Saturday.
The incident was alleged to have occurred in 2003 in London's Soho neighborhood, the Met said. "We continue to encourage anyone who believes they may have been a victim of a sexual offence, no matter how long ago it was, to contact us," the department said.
NBC News has not spoken to any of the accusers or independently confirmed any of the allegations against Brand. In the wake of the allegations, Brand has
postponed upcoming U.K. comedy shows
and is suspending the end of his current comedy tour, "Bipolarisation." It was not immediately clear whether the dates would be rescheduled.
Management agency Tavistock Wood
said Sunday that it had dropped Brand as a client
after it said it was "horribly misled" by him.