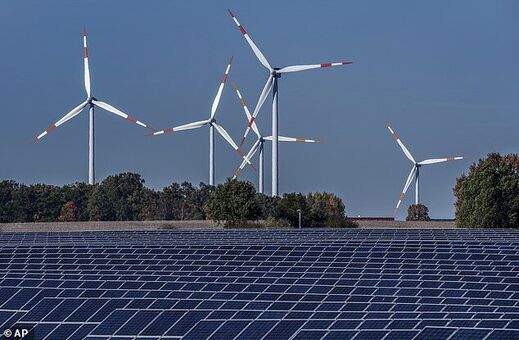 Germany
faces electricity shortages that will see critical industries ditch the country
after the government decided to shut down the last remaining
nuclear power
plants
in favour of renewable energy sources, business chiefs have warned.
The head of energy firm RWE said he fears that Germany will face a shortage of electricity that will see prices in the already struggling country soar.
Markus Krebber, 50, warned that this will endanger Germany's 'competitiveness' as an industrial hub, meaning
companies will be driven out of the country
, taking much needed jobs with them.
'Germany's prosperity is based on strong industry,' Krebber told
BILD
. 'A
scarce energy supply leads to high prices
- this endangers the competitiveness of Germany as an industrial location. We are seeing the first signs of de-industrialisation.'
His stark warning follows the shock news that
Germany has fallen into recession
- unlike
Brexit Britain's economy which is expected to grow by 0.4 per cent in 2023
and is set to avoid a similar downturn
.
German energy chiefs have blamed the country's poor outlook on the government's green energy 'disaster' that has seen
the last remaining nuclear power plants shut down
. Instead, the focus is now on renewable energy supplies from solar and wind sites.
But
the intermittent nature of these green energy sources, which leaves them susceptible to sudden drops during cloudy or windless periods
, means Germany's electricity system remains vulnerable to electricity shortages and price volatility.
Krebber warned that this could have a devastating impact on Germany's industries that are trying in vain to prop up the country's flailing economy.
'As an industrial location, Germany has a serious problem: We don't have as much energy available as we need,'
Krebber told Focus. 'This gap leads to high prices and thus to justified concerns about competitiveness.'
This is all playing into the hands of Germany's far-right parties, with the Alternative for Germany (AfD)'s popularity surging in the polls over its criticism of what it calls a costly green agenda.
The AfD, which disputes that human activity is a cause of climate change
, has tapped into concerns among some voters about the cost of the transition away from fossil fuels.
AfD leader Tino Chrupalla said more voters appreciated that the policies of the Greens, Scholz's junior coalition partner which wants a swifter shift away from hydrocarbons, brought 'economic war, inflation and de-industrialisation.'
'We are the only party that would not form a coalition with these dangerous Greens,' he said.
Christian Kullmann, CEO of the chemical group Evonik, joined Krebber in criticising what he
called the government's 'energy policy disaster'
and warned of its impact on Germany's industries.
'In Germany we pay the world's highest prices for electricity and energy, and every industry, every economy lives and depends on a reasonable, inexpensive, available energy supply,'
Kullmann, 54, said.
Germany's far right party soars in polls over anti-green and anti-immigration agenda
The far-right
Alternative for Germany (AfD) is riding high in the polls to the alarm of mainstream parties and is on track to win three state votes in the east of the country with calls to stop migration and curb what it sees as a costly green agenda
.
AfD is polling 17-19% nationwide, around a record high for the party that now vies with Chancellor Olaf Scholz's Social Democrats for second place in some surveys, up from fifth in the 2021 election when it secured 10.3% of the vote.
It was last at such highs in 2018 after Europe's migrant crisis.
This time, the nationalist, anti-immigrant party has also benefited from infighting in Scholz's three-way coalition.
The rise of the AfD, which lambasts the German government for high immigration levels, surging inflation and a costly green transition, touches a particularly sensitive nerve in Germany because of the country's Nazi past.
Germany's domestic spy agency has branded the AfD's youth wing 'extremist', saying it propagated 'a racial concept of society'. The spy agency's head has also accused
the AfD, which opposes sanctions on Russia
, of helping spread Russian propaganda about the Ukraine war.
Meanwhile, Interior Minister Nancy Faeser has partly blamed the AfD for stoking anti-immigrant attitudes that have fuelled a rise in attacks on refugees. The AfD denies this.
AfD leader Tino Chrupalla said more voters appreciated that the policies of the Greens, Scholz's junior coalition partner which wants a swifter shift away from hydrocarbons, brought 'economic war, inflation and de-industrialisation.'
'We are the only party that would not form a coalition with these dangerous Greens,' he said.
In Thueringen, Saxony and Brandenburg, the east German states that are holding state elections in 2024, the AfD is on track to top voting for the first time, with surveys showing its support at 23%-28%.
Analysts say voters in the east, where party loyalties are less well-established, have been more receptive to the AfD in part because they blame
mainstream parties that have rotated through various governments over the years for lower incomes that persist in the east, three decades after reunification
.
Even if the AfD's is kept out of power,
its rise has sucked votes from other parties, forcing them into more unwieldy coalitions at state and national levels, particularly in the east where the AfD is strongest
.
Kullman warned that Germany, which has historically been a hub for engineering, will see bulk goods no longer being manufactured in the country.
'We will probably say goodbye to these industries here in the near future - and it won't be too long at all,'
Kullman said in a stark warning. 'Germany is under pressure as a business location.'
Roland Farnung, 82, the former CEO of RWE, added: 'The energy policy now adopted by the federal government is practically an operation on the open heart of society with considerable risks for German companies and the jobs located here.'
In order to combat Germany's vulnerability to electricity shortages, Krebber says there must be a 'massive investment' in green energies. But even with this investment, Germany's power producers must continue to retool the country's entire power system at a record pace.
Krebber said: 'The will and money are there for [investments in green energies]. In order for investments to actually be made, a reliable framework is needed in the long term that creates incentives instead of setting hurdles.'
And some experts say
Germany will have to go back to nuclear eventually if it wants to phase out fossil fuels and reach its goal of becoming greenhouse gas-neutral across all sectors by 2045 as wind and solar energy will not fully cover demand
.
'By phasing out nuclear power, Germany is committing itself to coal and gas because there is not always enough wind blowing or sun shining,'
said Rainer Klute, head of pro-nuclear non-profit association Nuklearia.
The German government has dismissed such concerns, arguing that thanks to Europe's integrated electricity network, Germany can import energy when needed while remaining a net exporter.
But the German business chiefs still warn that Germany could face a shortage of electricity that will see businesses flee - and such a move will be detrimental to Germany's struggling economy.
Indeed, last month it was revealed that Germany was in a recession after the country suffered an unexpected dip in the first quarter of the year.
Germany
's gross domestic product (GDP) fell by 0.3 per cent in the period from January to March
, data released by the Federal Statistical Office showed.
The figures come as a major blow to Germany's government, which had boldly doubled its growth forecast for this year after
a feared winter energy crunch failed to materialise
.
The government predicted that GDP will grow by 0.4 per cent - up from a 0.2 per cent expansion predicted in late January - a forecast that will now likely need to be revised downwards.
German newspaper
Bild
reported that the country's
economy had already 'collapsed' by 0.5 per cent in the winter quarter of 2022.
It comes as the International Monetary Fund was forced to admit it had miscalculated its prognosis of the post-Brexit British economy, which is now set to avoid recession, despite doom and gloom from Remainers who portrayed EU membership as an economic necessity.