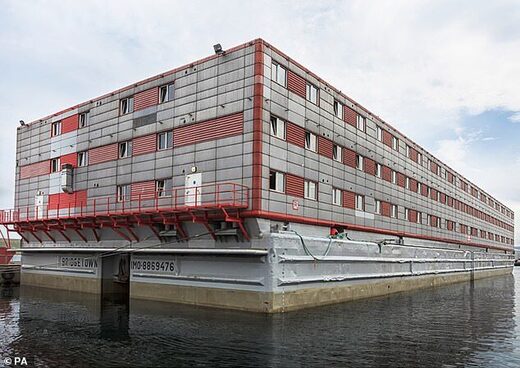 A giant vessel docked off the Dorset coast will be used to hold hundreds of asylum seekers, the Home Office has confirmed, despite legal threats from local Tories.
The barge, called the Bibby Stockholm, will be berthed in Portland Port for at least 18 months and will accommodate about 500 single adult males while their claims are processed.
The Home Office said the
accommodation will be "basic" with healthcare provision, catering facilities and 24/7 security
.
It did not say how much the lease agreement cost but insisted it is "significantly cheaper than hotels".
The plan is facing resistance from Tory-run Dorset Council and local Conservative MP Richard Drax, who are considering legal action.
The government is also facing backlash from charities and human rights campaigners who said the accommodation is not appropriate for people fleeing war.
But Immigration Minister Robert Jenrick said: "The Home Secretary and I have been clear that the use of expensive hotels to house those making unnecessary and dangerous journeys must stop.
"We will not elevate the interests of illegal migrants over the British people we are elected to serve.
"We have to use alternative accommodation options, as our European neighbours are doing - including the use of barges and ferries to save the British taxpayer money and to prevent the UK becoming a magnet for asylum shoppers in Europe."
The Home Office said
people will be moved onto the barge, which is currently in Italy
, in the "coming months".
Discussions with
other ports and further vessels will be "announced in due course"
, it added.
Mr Jenrick insisted all the accommodation will meet "legal obligations", adding that the government
will work closely with the local community to address their concerns "including through financial support"
.
Lawyers 'looking at' plan
It comes after Mr Drax
threatened legal action over the 'floatel'
, sparking fears in the Conservative Party of a fresh civil war.
The South Dorset MP, who has previously backed rigorous measures to cut the UK's level of immigration, said the barge was "dumped on our door" without consultation by the Home Office and urged
Home Secretary Suella Braverman
to scrap the idea.
He told Sky News "lawyers are looking at it" and added the
local police have also voiced their concerns about the plans
.
"We want to get this consigned to the dustbin before anything's signed," he said.
Mr Drax said
the site is a "very, very restricted area"
and raised concerns about keeping hundreds of vulnerable people there, which he said
would place pressure on the port's "very small" police force
.
He said they would be bussed in
from the port to nearby Portland Harbour, which is a "summer resort dependent almost entirely on visitors and tourists" with a crowded beach in the summer
.

Comment: Not an ideal location for 500 adult male migrants.


"With 500 migrants or more dumped here,
I cannot see this is a sensible move
, so for those reasons and many others I reject it," he said.
"When they're dropped off, and how many are? Where are they dropped off, what do they do, where do they go, do they come back?
"We already know some migrants have disappeared from hotels,
we fear some into gangs. Are they going to stay here? No, there's Bournemouth, Christchurch, Poole, Dorchester, Bridport to the west.
"They might just disappear into thin air so for all these reasons I'm not happy with it."
The Tory-run Dorset council is also opposed to the use of Portland Port as the site of the vessel, which is effectively a large block of flats on a floating platform.
It could accommodate 506 migrants in 222 bedrooms over three stories, at a reported cost of £20,000 a day.
Liverpool-based operator Bibby Marine Limited said the barge has been refurbished since it was described as an "oppressive environment" used for asylum seekers in the Netherlands.
Portland Port chief executive Bill Reeves said: "We encourage everyone in the community to approach this with an open mind and help us show other areas just how successful this type of initiative can be, both for the migrants and the local community."
The Times previously reported that the vessel
would cost £15,000 a day to charter, while the cost of berthing it in Portland would be more than £4,500 a day. Additional costs would be required
for services, including security and catering.
'Total failure to clear the asylum backlog'
Prime Minister Rishi Sunak has insisted the barge would save taxpayers' money, with the government currently spending around £6m a day housing asylum seekers in hotels.
However Labour said the barge is in addition to, not instead of, hotel accommodation.
Shadow home secretary Yvette Cooper said: "This announcement is a sign of the Conservatives' total failure to clear the asylum backlog, tackle the criminal smuggling gangs or get any kind of grip on the system.
"This barge is in addition to hotels, not instead of them, and
is still more than twice as expensive as normal asylum accommodation. It will house just 0.3% of the current
Tory
backlog
, which has skyrocketed and is continuing to grow under the Conservatives."
Amnesty International UK's Steve Valdez-Symonds said: "Confining hundreds of people in isolation on a barge is just more of the political theatre that the government has created to obscure its gross mismanagement of the asylum system.
"Along with the disastrous Rwanda scheme, all talk of barges, cruise ships and former military barracks should be abandoned.
"Anyone seeking asylum in this country should be housed in decent accommodation with proper facilities and, crucially, their claims should be properly and consistently processed."