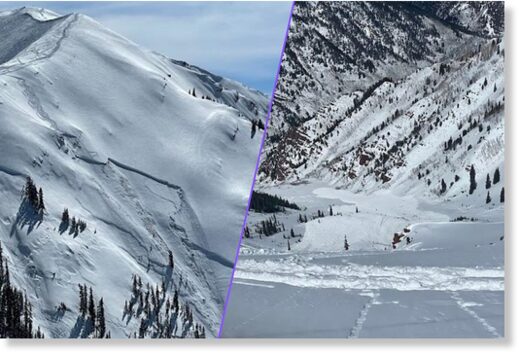 One man was killed, and two others were injured when a powerful avalanche was triggered near Chair Mountain in the Marble, Colorado, area of Gunnison County. Another skier was killed, and 2 others narrowly escaped an avalanche near Aspen.
These deaths now brings the total number of people killed by avalanches in Colorado to nine so far this season, according to the
Colorado Avalanche Information Center
and the Pitikin County Sheriff's Office..
According to the Gunnison County Sheriff's Office, reports of the Marble avalanche were received just before 6 p.m. local time on Friday.
One of the men trapped by the avalanche was able to exit the backcountry and was taken to a hospital for treatment. A second victim needed to be rescued via helicopter, and the sheriff's office said in a
Facebook post
that the third victim remained missing for some time.
The sheriff's office and various search and rescue groups continued to search for the victim, who was identified as 36-year-old Joel Shute of Glenwood Springs, Colorado.
Shute's body was eventually located by a helicopter around 11:30 a.m. local time on Saturday, according to the sheriff's office.
On Sunday, a large avalanche occurred in the Maroon Bowl area of Highland Peak, outside near Aspen Highland.
"At this time the
Pitkin County Sheriff's Office
can confirm a single fatality related to the initial avalanche. Two additional skiers were caught in the slide but we're able to self extricate," the office stated on Facebook. "Responders from
Mountain Rescue Aspen
are working with Aspen Highlands Ski Patrol to safely access the two other skiers and remove them from the avalanche area."
It's been a deadly year for avalanches in Colorado so far this season.
The Colorado Avalanche Information Center and Pitkin County Sheriff's Office says that nine people have been killed since December. The victims were identified as skiers, snowboarders and hikers.
Gear is available designed to increase survival rates if caught in an avalanche. It's essential to carry a transceiver and probe that can be used to locate someone who is buried and shovels to dig someone out from under the snow.
Avalanche survival rates plummet after about 15 minutes for victims who do not die from trauma received during the avalanche.