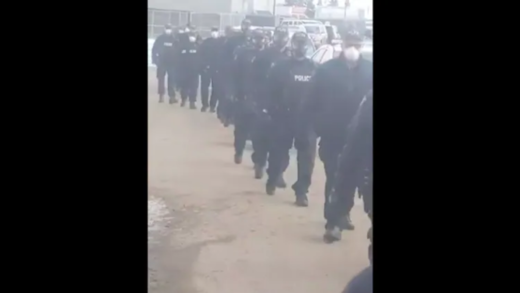 Around 400 protestors reportedly gathered outside GraceLife Church in Alberta, Canada on Sunday after it was closed last week for violating local COVID-19 health orders.
Alberta Health Services (AHS) said it "physically closed" the building and will be preventing access
to it until GraceLife "can demonstrate the ability to comply with Alberta's Chief Medical Officer of Health's restrictions."
Royal Canadian Mounted Police (RCMP) officers barred congregants' access to the church Sunday.
According to reports, RCMP erected a three-layer fence around the church last Wednesday.
In response, churchgoers gathered outside to sing hymns and read bible verses.
In a video circulating on social media, hundreds of police officers are seen surrounding GraceLife church on Sunday.
RCMP issued a statement Sunday saying there were on the scene to preserve "peace" and "maintain public safety."
"The RCMP uses necessary measures to protect the fundamental freedom of peaceful assembly and freedom of expression
, to promote the safety of all citizens, to enforce laws and to maintain peace and and order," the statement read.

Comment: Said without even a hint of irony.


I
n an email obtained by
FaithWire
, GraceLife Pastor John MacArthur praised the church members as they have begun meeting privately to hold worship services "amid a continued government crackdown on their freedom."
The church is meeting at an undisclosed location and broadcasting its services on YouTube.
"Amazing to have an underground church in Canada," said MacArthur. "This because
the government of Alberta triple-fenced the church in and locked it so people couldn't get there
."
MacArthur said
the government has "no legitimate reason" to shutdown GraceLife Church noting the church's attendance is still 15% of its facility's total occupancy
.
MacArthur pointed out that
of the 4.4 million people living in Alberta, the province has recorded 2,013 COVID-19 deaths, more than half of which were people aged 80 years and older
.
MacArthur said despite the intense restrictions, he is thankful for the "massive outcry" of support for the Canadian church.
Follow Annaliese Levy on Twitter @AnnalieseLevy