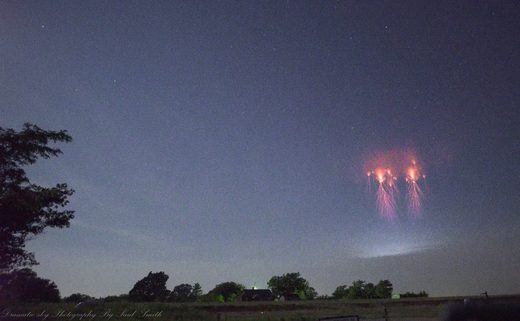 Back in October 2017, EarthSky.org
reported
that photographer
Paul Smith
believed he had captured some of the
first
images of red sprites in Oklahoma. Since then, Smith has captured two more instances of the ethereal high-altitude phenomenon: one on May 12th, 2018, and again today, on May 24th, pictured above. All images have been published on his interesting Facebook group,
International Observers of Upper-Atmospheric Electric Phenomena
:
Lots of TLEs from Oklahoma tonight. This one stands out as my best to date. 12.55am/6:55 UTC 5/24/2018 looking WNW from north Edmond, Oklahoma. It even has the blue/purple ends on the tendrils
'TLE' stands for Transient Luminous Event, which includes upper-atmosphere electric phenomena known as sprites, jets and ELVES. These
high-altitude discharges
were once considered to 'possibly occur' because pilots reported seeing them, but meteorologists discounted the idea
until 1989 when the first visual documentation was made in support of the claims.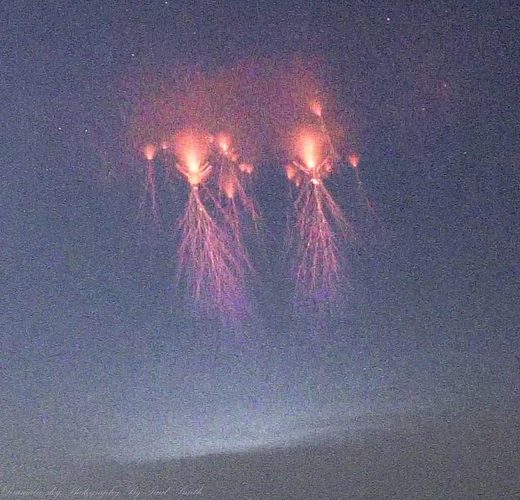 I find it curious that TLEs were only first documented relatively recently - red sprites in particular, once considered rare, are now being
recorded
with increasing regularity.
Then there's a slew of other unexplained sky phenomena, such as the aurora STEVE, which was only formally discovered in
2017
. And on top of that we have the more common sky sightings exhibiting uncommon behaviours, such as auroras in rare
pinks
and
blues
, as well as being observed at ever-
lower
latitudes.
One wonders,
are official bodies and amateur observers really only just beginning to notice these TLE' and other sky phenomena
now
, or has something changed?
We've been logging all kinds of marvels and oddities in our
Earth Changes
news section, and in our monthly
documentary
, for almost two decades now. We've seen so many new or intensified phenomena during that time: from our planet's increasingly
brutal
winters,
erratic
seasons, devastating
floods
(all of which are contributing to
worldwide
crop damage),
earthquakes
, unbelievable
landslides
,
monster
sinkholes
and
gaping
fissures
, mysterious
booms
,
roaring
(or 'trumpet') sounds seemingly emanating from the sky...
Clearly,
great changes are occurring on our planet.
And not just on our
planet
.
Here are just a few more recent examples of startling and stunning 'signs' in our skies:
For further information on how this is all connected and what might be driving it, check out our radio show '
Earth changes in an electric universe: Is climate change really man-made?
' and our book
Earth Changes and the Human Cosmic Connection.