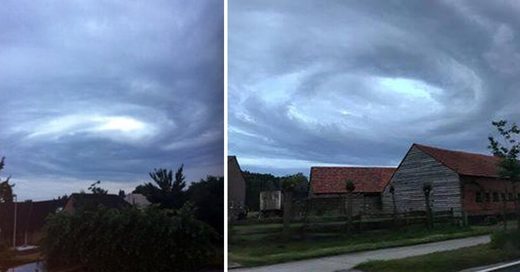 In the north of the Belgian province of Antwerp, clouds turned into one great swirl on the evening of Tuesday May 22nd. Many residents of the municipality Schilde and its surrounding area were amazed on seeing the bizarre weather phenomenon in the sky.
It was Facebook page
Weerstation Zoersel & omstreken
that received pictures of the phenomenon and published them online. Excited about the sight in the sky, Belgian weather caster Jill Peeters tweeted: "
I'm going for a walk - without a phone - and I keep seeing a motionless, gigantic swirl in the clouds. Thankfully, you all, such as in Zoersel and Antwerp, are taking pictures of it.
"
Peeters later
explained
the apocalyptic appearance as being a 'divergent eddy', which is an unusual whirlwind. Air collects at a great height, after which it flows downwards. As it is a very slow process, onlookers may think it's motionless, while in fact it moves very slowly and slightly.
Bizarre weather phenomena are becoming more and more common around the world. For a collection of extreme weather events and other unique weather appearances, check out Sott.net's
Earth Change Summaries
.