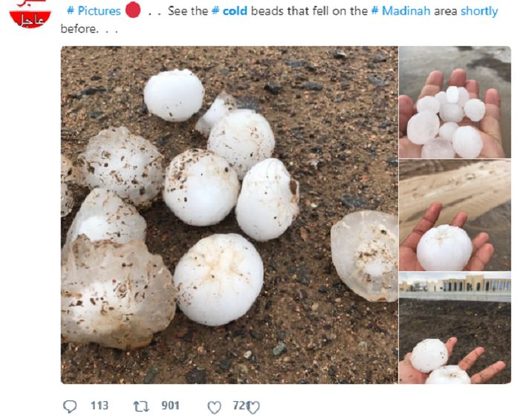 An intense storm produced large hailstones which damaged cars and caused travel chaos in Medina, Saudi Arabia on February 24, 2018 as reported by
local media
.
Images of damaged cars were shared on social media.
Last month a
rare covering of snow
blanketed parts of the desert country.
Earlier this month
huge hailstones caused damage in Cordoba, Argentina
, with one estimated to be up to 18 centimeters in diameter - 7.1 inches - at its largest width, which could be a record for the Southern Hemisphere.
Some other severe hailstorms from around the world during the last year include:
It is likely that atmospheric dust loading from increased comet and volcanic activity is contributing to these 'intense' or 'freak' hailstorms, the cooling effect of which causes ice crystals to form.