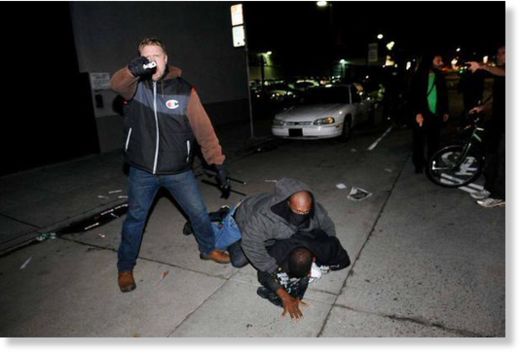 Plainclothes California highway patrol officers have walked among demonstrators for weeks, report stated
An undercover California highway patrol officer who had infiltrated protests against police violence in Oakland pulled a gun on demonstrators after his and his partner's cover was blown.
According to accounts in the
San Francisco Chronicle
and the
Berkeley Daily Planet
, a few dozen protesters remaining from larger demonstrations yelled that two men in plainclothes were police.
"Just as we turned up 27th Street, the crowd started yelling at these two guys, saying they were undercover cops," the
Chronicle's
freelance photographer Michael Short told the newspaper on Thursday.

Comment: As these Twitter reports show, these very same cops were the ones instigating for violence and looting among the protesters:


UNDERCOVER COPS in march just exposed - they were instigators of looting. Pulled gun on protestors when discovered. #berkeleyprotests

- Morpheus Ravenna (@MorpheusRavenna) December 11, 2014
Comment:
This is nothing new. Police have been infiltrating peaceful protests for years and instigated violence and looting. But with the atmosphere already heated of late and people very angry at police, it's no surprise they were attacked when discovered. It's also not surprising that the California Highway Patrol, whom the undercover officers worked for,
told reporters
in a conference call that the officers "followed procedure", that he "pulled his badge" and identified himself, and that the officer "didn't target a person's head". That last statement is totally false just based on a few of the pictures taken of the incident.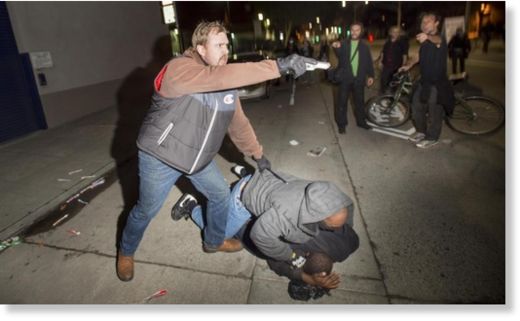 The
Berkeley Daily Planet
reported that the two men tried to walk away, but the couple of dozen remaining protesters "persisted, screaming at the two undercover cops". The
Planet
said that an officer "pushed a protester aside". The demonstrator allegedly pushed back and was tackled and handcuffed.
"Somebody snatched a hat off the shorter guy's head and he was fumbling around for it. A guy ran up behind him, knocked him down on the ground. That guy jumped backed up and chased after him and tackled him and the crowd began surging on them," Short said.
He told the
Chronicle
that the officer pulled a small baton out, then a gun, after the crowd started "surging" them. The
Planet
reported that more officers quickly moved in to disperse demonstrators.
In a stunning admission, the patrol's Golden Gate Division told the
San Francisco Chronicle
that officers had been dressing like and walking with protesters since the first demonstration on 24 November, attempting to gather intelligence to stop highway shutdowns.

Comment: Their purpose for infiltrating the group is not about stopping highway shutdowns. They are instigating violence and looting so that the larger public will demand that police take care of the problem. That is the purpose of the agent provocateur, and it's something that agencies around the world have used for years. It should be no surprise that the bosses of the undercover officers back them up, they're probably telling these guys what to do.


Protesters have flooded the streets of the San Francisco Bay area for weeks, since grand juries in New York and Missouri refused to indict police officers for shooting unarmed black men. Many protests have shut down highways, and some in Berkeley have turned violent, resulting in fires and looting.